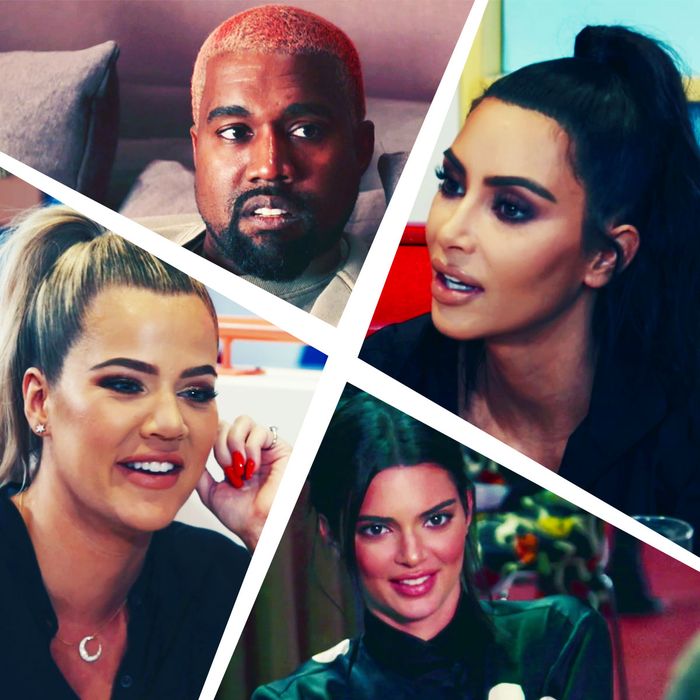 Photo: Courtesy of E! Entertainment
Fresh off a banner week for Actress Kris Kardashian, this week's episode of Keeping Up With the Kardashians allowed Kris's children to shine. While nothing will ever live up to "thank you you next, bitch," we will still applaud her Calabasas kinfolk for their efforts.
On this week's episode, our A-Plot was a charity poker tournament; our B-Plot was Kim's return to Paris; and our C-Plot was Kourtney Kardashian's eggs. #LEGGO
Scene 1:
Kourtney Kardashian has invited Kim Kardashian and Scott Disick into her home for her weekly Outside Shoes on Furniture Summit. The first and only thing on this trio's agenda is to rehash the biting words Kimberly spat at Kourtney earlier this season. I'm sure you'll remember when Kim barked that Kourtney was the "least exciting" to look at of the family members — now, just days before this scene was filmed, Kim's words have been made public in promotional teasers for this season.
Almost a year after their November 6, 2017, encounter, the sisters laugh at how the public has been attacking Kim for being so fucking rude. Scott believes that Kim's words were justified because she is essentially the one in charge of making all of them famous and giving them photo shoots to fight about. Kim sort of agrees with Scott, while Kourtney asks the two of them not to justify Kim's insults. Kourtney also tells them that fans of hers are rallying around her as fellow victims of familial abuse. Kim rolls her eyes at the thought of people getting so incensed over what she said, and while she "knew this was coming," she does want to clarify that all she meant to say was that Kourtney was the most "boring" family member.
Scott then inserts himself again and tells Kourtney that anything Kim says shouldn't hurt her; since, after all, she calls Kim a "pornstar" often. Scott's only halfway joking when he makes this claim, but it's harder to tell if he's joking or not when he says that he thanks Kim "every day" for his career. This scene was filmed on August 3, 2018.
Scene 2:
In a backdoor pilot for Kris Jenner's newest series Little People, Big Couch, the stars, Kim Kardashian West and her eldest son Kanye West, have a conversation on their big, comfy couch. Kanye says that this room in their home should be the vibe for all homes to ever home. He enjoys massive couches in otherwise sparse and seemingly stylistically neglected rooms.
After listening to him vocalize his love of comfort, Kim asks Kanye about an upcoming date on his schedule. She noticed that they're scheduled to go to Paris for a fashion show, but she's unsure she'll be able to make it since she hasn't been to Paris since her attack in 2016. Kanye understands Kim's hesitations, then says that there's no way he'll miss Virgil Abloh's first fashion show as the creative director of Louis Vuitton. First, Abloh the first black man to hold this position, and second, Kanye explains that he can't complain about friends not showing up for their accomplishments and do the same to Virgil. He's also excited since both he and Virgil interned together at Fendi and made designs they were proud of but that never saw the light of day.
Kim listens to Kanye boast about how proud he is of Virgil's accomplishments, and then she listens more as Kanye explains that he doesn't want to put any pressure on her to attend but her showing up could be good for "the culture." He adds that her presence would be a great look for the world to see, but again no pressure, but the world is watching and waiting on this and the culture needs her to attend. Kim promises that she'll think about it. This scene was filmed on or around March 21, given Kanye West's fresh dye job.
Scene 3:
Desperately trying to find just one way to get her mind off of the fact that she's living and raising a child with a serial cheater, Khloé Kardashian seeks new and innovative ways to exercise. Currently she's experimenting with a life-size inflatable ball course that she's had placed in her backyard. It appears that this new exercise routine really burns calories by inducing a panic attack brought on by claustrophobia.
Thankfully, Kendall and Kris Jenner stop by and Kendall tries out the game/exercise with her sister. Neither Khloé nor Kendall can successfully roll themselves down the course in their respective balls. They try pushing, rolling, and running but nothing works until Kris gives Khloé a helping hand and pulls her ball down the lane. This propels Khloé to the finish line while Kendall remains in the same spot screaming for help. Once she's out of her ball, Khloé runs over to pull a limp Kendall Jenner out of the inflatable death trap.
After their exercise, Khloé, Kendall, and Kris take a seat on Khloé's patio. Kris wants the girls to join her in a poker tournament for charity that their family friend Shelli Azoff is organizing. Khloé and Kendall agree to participate because they love their Aunt Shelli, though they are a little worried how things will go since they don't know how to play poker. Kris has a solution for that, but since she has to leave and get on with her day, Kendall doesn't hear it. Graciously, Shelli has agreed to get Kris and her kids poker coaches to help them learn the game and make as much money as possible for charity. Khloé loves this idea and is excited to prepare for the event. This scene was filmed on October 2, 2018, about two months after the poker tournament.
Scene 5:
Elsewhere in Calabasas, Kourtney Kardashian is considering freezing her eggs. She pays a visit to Dr. Huang, the Kardashian's fertility doctor, to check in on how that might go for her. Kourtney's tried to start the process of freezing her eggs before, but the timing has never really worked out. Now, though, she's ready. During her ultrasound, Dr. Huang finds five follicles (where eggs develop), and suggests that Kourtney start the process now because as she ages this number will decrease. Kourtney's thinking she will finally begin to freeze her eggs, but she's still a bit nervous. This scene was filmed on July 27, 2018.
Scene 9:
After much thought, and in an effort to recapture better memories in what was once her favorite city, Kim's decided to join Kanye in Paris. The decision was made a bit easier since they're really only in town for the day of the show — plus, she's really excited to support Kanye supporting Virgil Abloh.
Kim and Kanye have touched down early in the morning and as they make their way to their hotel, Kanye points out every bike shop he sees and wonders if this is the "biking district" of Paris. While he does this, Kim remains pretty silent and lets him rattle on. Kanye also refers to the Arc De Triomphe as a "fresh" monument. And, in a rare moment where I'll back up Kanye West, he does make an astute observation: This area of Paris is known for its bike paths and is famous for serving up gorgeous views of the Arc De Triomphe. After Kanye's done pointing out national landmarks, he asks Kim which hotel they'll be staying in, and asks if it's a small boutique one. She laughs and tells him that they're never staying in a small hotel again. This scene was filmed on June 21, 2018.
Scene 11:
Committed to learning poker for charity, Khloé Kardashian drags Scott along to a practice game in, as Khloé puts it, a "sketchy" bar. They've been invited by her poker coach, Phil, who wanted her to play in a real game before she was thrown into competition. Also attending the game is Vanderpump Rules star Lala Kent's new fiance, Randall Emmett. (You'll notice he's the red-faced gentleman so very obviously rich enough to bag a 28-year-old reality star on the rise.) Khloé doesn't win her game, but her hopes are high considering she lost to professionals. She also thinks that she has good understanding of poker, and with time, she could be great at it. This scene was filmed on July 20, 2018.
Scene 12:
Decked out in all Louis Vuitton menswear, Kim and Kanye head to Virgil's show. Kim experiences some anxiety as she and Kanye leave their hotel because she can't find anyone on their security team. Being surrounded by protection was one way for Kim to feel extra safe, and since she can't find them or be assured that they're downstairs waiting for them at the car, she's panicking.
The situation seems to be handled quickly, but the couple faces yet another obstacle on their way to the show — they're late. Kim's gotten a text, presumably from Kylie, who is also attending, that the show is being held for them. But there's not much they can do as they're stuck in heavy traffic and their driver is advising against walking to the event. Once they do arrive, they're swarmed by paparazzi but thankfully find time to pose in front of a sea of cameras before taking their seats. Seated front-row, Kim and Kanye West enjoy the show next to the Generation Z version of themselves, Kylie and Travis Scott.
Oddly, Travis Scott has not granted the Keeping Up cameras permission to use his image on the show, so his face is blurred out. It's been reported that Travis doesn't want to appear on the show because it's not really his thing. But I'd say: Just give it time. Kanye said he'd never appear on the show because he didn't like how it was filmed, and yet.
When the show is over and Virgil takes his walk down the runway, he stops to give Kanye a long and tearful hug. The two fashion-school buddies sob into one another's minimalist clown attire while Kim films the encounter for Instagram. This scene was filmed on June 21, 2018.
Scene 15:
Together again in Los Angeles, Kourtney, Kim, and Khloé Kardashian have a sister date at the Saved By The Bell pop-up restaurant Saved By The Max, which has been cleared out for them so that the sisters can privately enjoy their nostalgia. Kim jokes that she's Kelly Kapowski, which, duh, while Khloé remembers just how hot Zack was. Kim asks if he's still hot and Khloé says, "no, he's like 600 years old now!" You may think Khloé was being hyperbolic, but she's actually right. Mark-Paul Gosselaar, the actor who played Zack Morris, is currently 44, which technically makes him 600 years old in Kardashian years.
Khloé and Kourtney are dying to know how Kim's trip to Paris went, and they're pleased to hear that it went well! Kim's decided to embrace all of the positive and extreme negatives she's experienced in the city, because they've all shaped her into the woman she is today. Khloé and Kourtney were also touched by the video Kim shared of Kanye and Virgil crying into one another's arms. This scene was filmed on July 19, 2018, almost a month after Kim's trip to Paris. Shocking that Kim didn't slap them for just now asking about her trip.
Scene 16:
The day has come for the KarJenner poker tournament and Kris, Kim, and Khloé all fell pretty ready to play! Kendall's not feeling as lucky since she, unlike her family members, didn't get any help from a coach. Khloé has resolved that she will definitely not win the whole competition but at the very least she thinks she can beat everyone in her family. Kim, who worked with a mentalist to prepare for the game (she thought she was better off focusing on when people were lying rather than, you know, knowing how to play), is focusing on reading people's faces and bluffing as best she can. Kris is just excited to play and have a day out with the family!
Seated at their respective tables, each woman plays the game with serious concentration. Kris goes all in too early and is knocked out of the game, while Khloé stays in for a bit longer but she too runs out of chips and is booted from her table. This leaves Kim, the mentalist, and Kendall, the beginner, to fight for the top KarJenner spot. Kim plays a few more rounds, but loses to Lala Kent's fiancé, I think, which means Kendall wins! She's just as shocked as I was when I saw that Camryn Manheim was filming Kim playing poker this whole time! This scene was filmed on July 29, 2018.
Scene 18:
Kourtney and Kim visit a local Macy's department store to take photos in front of the giant Calvin Klein cutouts. Kim calls this a dream come true, and in between Instagram storying the cutouts, she asks Kourtney about her recent egg-retrieval procedure. Kourtney tells Kim that all went well and she was able to freeze seven eggs. Which is the same amount of eggs Kim has frozen, too!
Kourtney makes it clear that she's not sure if she'll ever need to use these spare eggs, but she's happy to have them just in case she wants more kids down the line. Kim's excited that Kourtney decided to go ahead and take this step, because it means that she's putting herself and her future first. This scene was filmed on August 7, 2018.
Make sure to come see about me next week, dolls! I'll be here with yet another #KUWTKE recap of Keeping Up With the Star of Thank U, Next and Her Family. #URDOINGAMAZINGSWEETIE