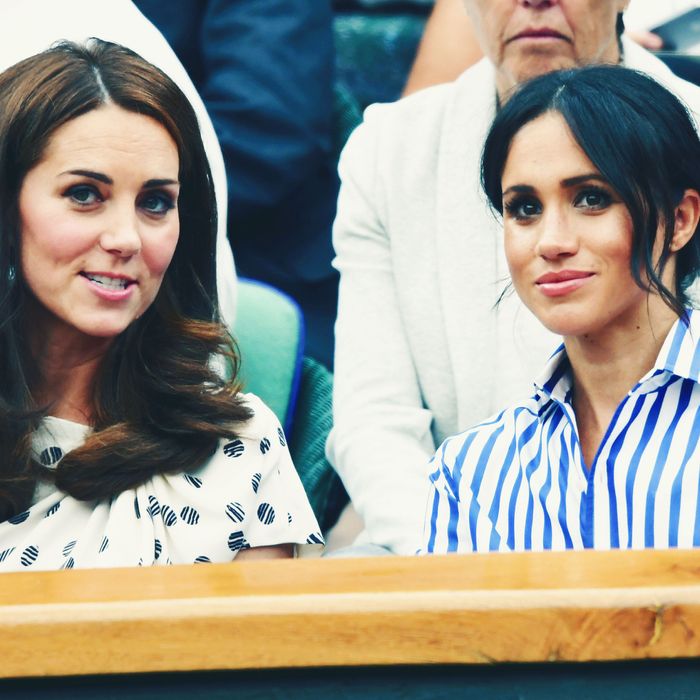 Kate Middleton and Meghan Markle.
Photo: Getty Images
Lately, rumor after rumor about the British royal family — Meghan Markle reportedly works too hard! Prince William and Prince Harry allegedly don't get along! — have been published by the tabloids. Various "sources" have dispelled the rumors to royal reporters, but no one in the royal family has actually publicly shot down the nonstop reports. Well, until now, that is.
As People reports, a spokesperson for Kensington Palace — which represents Kate Middleton, Prince William, Meghan Markle and Prince Harry — has gone on record to say that a recent report by the Sun is untrue. The report claimed that Meghan was rude to Kate's staff ahead of her royal wedding in May, and that Kate had told Meghan that her behavior was "unacceptable." But in an rare move, a spokesperson for Kensington Palace said of the report, "This never happened."
To us mere mortals, those three words may seem inconsequential — after all, the spokesperson didn't offer any further explanation of what may or may not have happened between the two women and didn't comment on any other reports that have been published recently. But in reality, the fact that Kensington Palace said anything at all on the record might mean so much more: Powerful members of the royal family are sick of these reports, and they're not willing to just let the rumors run rampant anymore.
While the British royal family is no stranger to scandals, it's very rare for anyone at Buckingham Palace, Kensington Palace, or Clarence House to actually officially publicly comment on tabloid reports. In fact, over the past two years, we've really only seen this happen two notable times: first, when Prince Harry's relationship with Meghan was met by racism and hatred in the press and the royal issued a statement calling out the "abuse and harassment," and secondly when Meghan issued a statement (through the palace) that her dad would not be attending the royal wedding (after weeks of tabloid stories).
So the fact that Kensington Palace has publicly shot down one of the recent rumors about drama between Kate Middleton and Meghan Markle is a big deal. Coupled with reports that the couples will attending Queen Elizabeth's royal Christmas celebrations at Sandringham together as a show of unity, this means the palace may be taking further steps to help diffuse the situation soon.