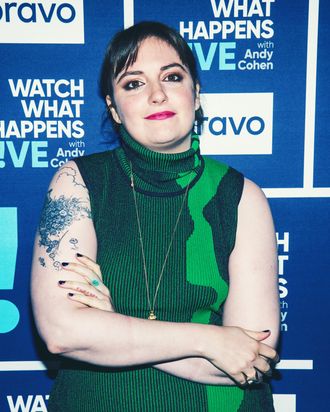 Lena Dunham.
Photo: Charles Sykes/Bravo/NBCU Photo Bank via Getty Images
One year after defending the Girls producer who was accused of rape, Lena Dunham finally issued a belated apology to the alleged victim in The Hollywood Reporter, calling her mishandling of the situation "a terrible mistake."
While Dunham and Girls executive producer Jenni Konner expressed regret last November for coming to the defense of former producer Murray Miller, Dunham never personally apologized to actress Aurora Perrineau, who accused Miller of raping her in 2012 when she was 17 years old. (Miller has denied the allegations.) In her editor's letter for The Hollywood Reporter's Women in Entertainment issue, which she guest edited, Dunham spoke directly to Perrineau.
"To Aurora: You have been on my mind and in my heart every day this year. I love you," she wrote. "I will work to right that wrong. In that way, you have made me a better woman and a better feminist."
Acknowledging that her original decision to defend Miller, someone she "had loved as a brother," was a "terrible mistake," she writes that she had previously "internalized the dominant male agenda that asks us to defend it no matter what, protect it not matter what." Today, her job is "to excavate that part of myself to create a new cavern inside me where a candle stays lit, and illuminates the wall behind it where these words are written: 'I see you, Aurora. I hear you, Aurora. I believe you, Aurora.'"
To conclude the apology, Dunham makes it about herself, preemptively addressing that she knows people will say she's just trying to "curry public favor," the which she says, "that's okay, though, I stopped thinking that was an option for me somewhere around 2014, and that's some kind of freedom."
She continues, "I have the only women I want or need in my life" — which, coming from Dunham, makes sense.