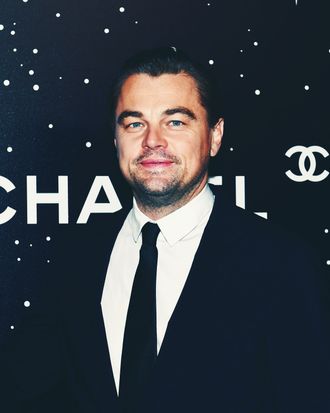 Leonardo DiCaprio.
Photo: Noam Galai/FilmMagic
The only thing that Leonardo DiCaprio might love more than having a girlfriend half his age and beach volleyball is dinosaurs, as evidenced by his existing collection of their skeletons, which may soon grow … by a lot.
According to the Page Six "art spies" on the scene at Art Miami, the founding father of the Pussy Posse was apparently interested in dinosaur bones at the exhibition "DeXtinction," where one $2.5 million set caught his little eye: the 150-million-year-old skeletons of an allosaurus mother and her offspring.
(A rep for DiCaprio, however, told the Cut that "Leo never went to see the fossils while in Miami.")
Is dinosaur-bone collecting a bizarre, little-known obsession of male Hollywood stars? In 2007, Nicolas Cage brutally outbid DiCaprio on a 67-million-year-old skull of a tyrannosaurus bataar that, turns out, was probably stolen. Just this past year, Russell Crowe decided to hold a major auction following the dissolution of his marriage, in which he sold a mosasaur skull he had gotten from none other than DiCaprio.
To this day, it's unclear exactly how many of these reptilian bones DiCaprio has in his possession. In the the article "How Many Dinosaur Skulls Does Leonardo DiCaprio Own," Uproxx estimates that he either has many or just one, but honestly, who knows. The masculine desire to possess the carcasses of extinct creatures seems to be pretty limitless.
But hey, I guess if anyone has enough room in one of their house(s) for a 28-foot-long allosaur skeleton — and another baby one! — well, it's DiCaprio.
This post has been updated.