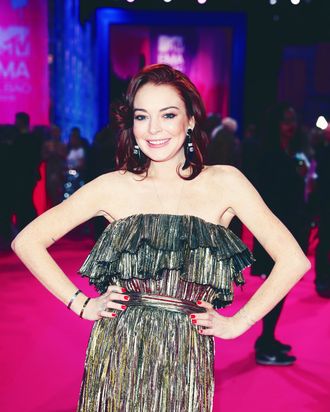 Lindsay Lohan.
Photo: Andreas Rentz/MTV 2018/Getty Images for MTV
Remember that bizarre video that Lindsay Lohan livestreamed on Instagram of herself being punched in the face? You know, after she accused a family of trafficking children? In case you don't: In October, Lohan posted an Instagram live video in which she followed a homeless family around with her phone, claiming that they were Syrian refugees, yelling at them in Arabic and heavily accented English, and attempting to get their children to come with her to "watch TV and movies." The video then culminates with a woman punching Lohan.
In a new interview with Paper magazine, the actress finally addressed the incident … sort of. When asked about it over the phone, Lohan initially stalled, telling the interviewer, "Let's talk about it in New York. It's better if we speak face to face about it. So you can actually understand what really happened." (She did acknowledge that she wished to take what had happened and "erase it and throw it in the trash," which is understandable.)
When it finally came time to discuss it in person, however, Lohan was reportedly "too tired to speak," and instead later sent a response through her rep over email: "I've read the situation wrong. I've learned from it. And that's all I have to say."
She did, however, have a little more to say about choosing to be on social media in the first place, explaining that she feels "like you sort of have to" because "it's your way of controlling the narrative."
"I recently made the mistake of having my phone recording live video, and that I learned from," she continued. "But I think it's also important because if you're doing something and you want to give direct access to your fans, you can contact them and see their thoughts and get an opinion."
Which is to say, at least she has some control over her narrative — even if it does involve accosting homeless families. But, hey, at least she's learned.