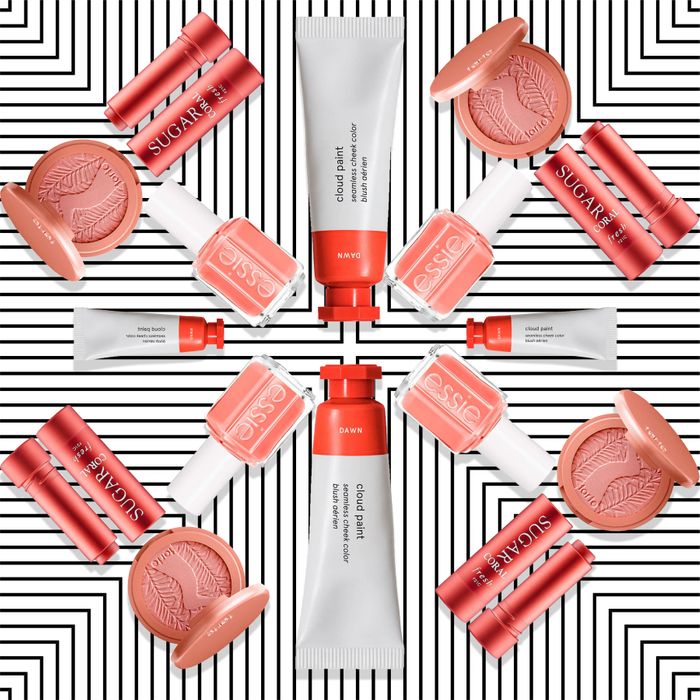 Photo: Courtesy of the Retailers
Do you remember what this year's Pantone Color of the Year is? If not, great, because Pantone just announced next year's shade, which is where you should focus all your attention. Pantone's 2019 Color of the Year is 16-1546! But you can call it Living Coral!
According to the Pantone Color Institute, Living Coral is "an animating and life-affirming coral hue with a golden undertone that energizes and enlivens with a softer edge." If that doesn't paint a clear enough picture for you, you can watch this nine-second video of a fish in Living Coral calmly hovering next to an actual living coral. Or you can just start browsing a bunch of beauty products (I did both.)
According to Pantone, Living Coral is a "vibrant, yet mellow" orange-pink. Almost every beauty product that has "universally flattering" or "flushed" in its description comes in the shade. Living Coral is that lipstick that's cheerfully bright, but not too bright. It's that blush that makes it look like blood is coursing through your veins, but in a healthy way, and at a completely normal speed. Here, 11 beauty products that already come in Living Coral so you'll be well-prepared and life-affirmed for 2019.
Get this cult-favorite lip balm in Sugar Coral Tinted, a "bold juicy coral."
Get this cult-favorite, long-wear blush in Peaceful, a "soft nude peach" that's also a coral.
Get this creamy, multi-tasking, matte pencil in 700 Whichever Coral to channel Living Coral in more unorthodox ways.
Get this magnetized, highlighting shimmer stick by our very own Pope in Yacht Lyfe, a "glimmer peach-pink" that is also a coral.
If you're feeling fancy, get this award-winning matte lip stain in 22 Coral Anti-Mainstream, a "neon coral."
If you're looking for a blush that will actually show up on darker skin tones, get this highly pigmented one in NBL 05, a "coral."
All Essie shades are fashion-forward, but if you really want to get ahead, try one in Tart Deco, a "Colorful Coral Nail Polish."
This popular eye palette by Huda Kattan is selling out fast, so get in on the coral action while you can.
Most of Glossier's products have a "life-affirming" affect to them, so get this gel-cream blush in Dawn, "a sunny coral" for a double-whammy.
If you really want to wear Living Coral in all its glory, get this full-coverage lipstick in Coral Sinner.
And if you just want a wash of Living Coral, get this soothing lip balm in Coral.
If you buy something through our links, New York may earn an affiliate commission.