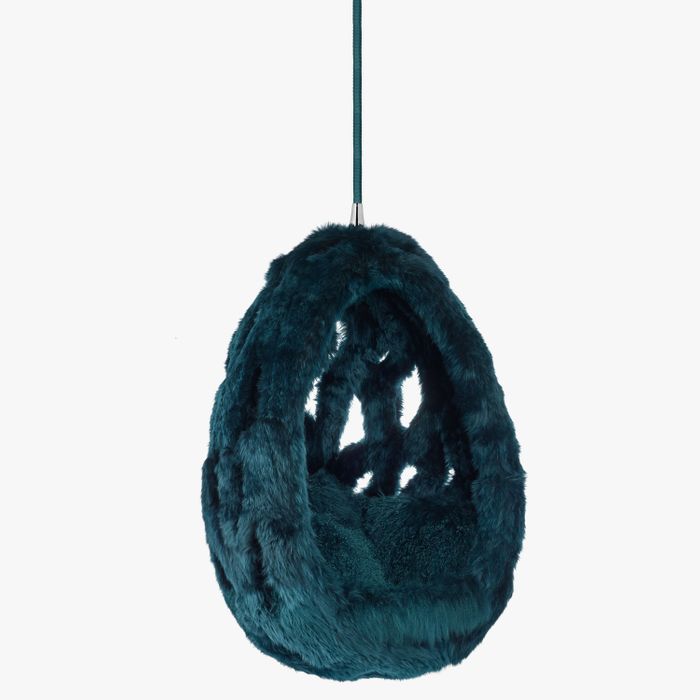 Cocoon chair by Fernando and Humberto Campana.
Photo: Patrick Galaber/Courtesy of Louis Vuitton
Picking out furniture can be stressful. There's so much to consider: Will it fit? Does it match with everything else? Are you prepared to live with it every day? And most importantly, what does it say about you, the person who chose to buy it? The spaces we inhabit can convey just as much about us as the clothes we wear, which is why it makes sense for fashion brands like Louis Vuitton to get into the interior-design business as well.
In 2012, Louis Vuitton launched "Objets Nomades," a collection of items dreamed up by interior designers all over the world, inspired by the brand's 160-year history of travel. Using in-house materials, namely leather, the designers were challenged to create objects that could either travel with you, like a leather hammock or a foldable stool, or transport you elsewhere, like a table inspired by the sea (below), or a furry cocoon chair that makes you feel like you're in a womb (above).
"Today, to be a nomad doesn't simply mean to travel around, because you can travel on your smartphones," said designer Alberto Biagetti at Design Miami during Art Basel this week, where Objects Nomades has a booth. "Travel really means to enjoy and share things and imagine how the world could be."
And what better way to travel virtually than over a meal? This was the question Biagetti and his partner, Laura Baldassari considered when building their Anemona table, which is inspired by the shape of water. "It connects people," said Baldassari of the piece. "It's about traveling with your mind, not your body."
Designer Patrick Reymond of Atelier Oï expressed similar intentions with his "Serpentine" table, which is also on display at Design Miami this year. In theory, one could travel with its giant slab of glass, as the base is collapsible. But the idea was really to express movement throughout the object. "It's like a dance," said Reymond. "The ribbon connects the whole structure together."
A dining-room table is definitely an important purchase, especially one that inspires good conversation. But the one piece I couldn't keep my eyes off of at Vuitton's Design Miami booth this year was the cocoon chair. Designed by Fernando and Humberto Campana, it retails for $116,000 dollars, which I don't exactly have. But with all that's happening in the world right now, the only place I really want to be is by myself, hanging from the ceiling in an expensive, fuzzy pod.