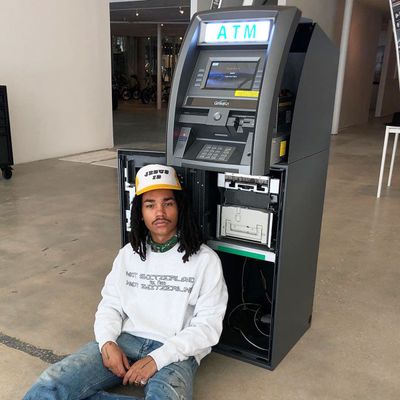 Luka Sabbat at his "Free Money" Art Basel exhibit.
Photo: @lukasabbat/Instagram
The whole point of Art Basel Miami is encouraging people to spend wild amounts of money on art and design. And so far, so good. On Wednesday, for example, a glittery canvas by Chris Ofili, which is propped up by two hunks of elephant dung and listed at $3 million, was reported to be on hold at David Zwirner. Art collector Leonardo DiCaprio is also in town, apparently eyeing $2.5 million dinosaur bones.
Not everyone can spend millions of dollars on detritus, though, and creative collaborators Noah Dillon and Luka Sabbat — the Grown-ish actor, model, and influencer who recently made headlines for his alleged "failure to influence" — seem to get that. Under the moniker Hot Mess, the duo unveiled their latest exhibition, "FREE MONEY," at TheArtpark in Miami on Thursday. It's exactly how it sounds.
The idea was to allow any kid to walk in off the street and and "buy a piece of art in the same way that a collector would be able to," Dillon explained. But in this case, the "art" for sale was 300 different framed one-hundred-dollar bills collected from stores across America.
In a statement about "how wealth makes our values," Sabbat and Dillon listed each Benjamin depending on its superficial "worth" to those in the county in which it was obtained. A one-hundred-dollar bill from Save-a-Lot in Kentucky, for example, was listed at $14,000 dollars, while one from the Chateau Marmont in Los Angeles was sold for a single dollar at the opening.
Of course, there was also Hot Mess–branded merch for sale, which went along with the transactional theme. If you bought a T-shirt, for example, your receipt was screen-printed on the front, and that was the whole graphic. There were also button-downs referencing both FDR's New Deal and President Clinton's welfare reform.
But the real pièce de résistance was an ATM machine at the center of the room dispensing "free money." Dillon and Sabbat spent the night giving out Hot Mess credit cards at random, which had amounts of $20, $40, and $60 loaded onto them.
"People were really freaking out," said Sabbat's father, Clark, who supervised the operation. "A lot of people were also very appreciative," he added. "But then one of the kids went and used the money to go buy a T-shirt."
Sabbat and Dillon launched Hot Mess last February after meeting on Twitter some years ago. Before "FREE MONEY," they worked on a series of "Free Advertising" campaigns, or unofficial billboards around America for brands like Celine, Balenciaga, and The North Face. In a cheeky commentary on his recent misunderstanding with Snapchat Spectacles, Sabbat also posed for an ad he dubbed "Skeptical Spectacle," which included all the headlines claiming his "Failure to Influence."
Both Sabbat and Dillon work hard for the money. Which is why it can be hard to tell whether the work of Hot Mess is either self-serious, or one big troll — or both. But maybe that's the point. As Sabbat has said, trolling is "an art in and of itself."