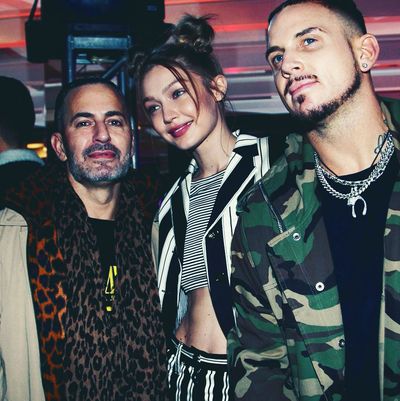 Marc Jacobs, Gigi Hadid, Char Defrancesco.
Photo: Lexie Moreland/WWD/REX/Shutterstock
Close your eyes and think of grunge. You may be thinking of Doc Martens, you may be thinking of long-sleeve shirts under slip dresses worn over jeans. You probably aren't thinking of a ritzy new store on Madison Avenue. But you should be! Last night, Marc Jacobs celebrated the launch of his Redux Grunge Collection in tandem with the opening of his 655 Madison Avenue store. The party illustrated how far the designer had come since 1993 when he first conceptualized the collection, which became the ultimate '90s moment.
The new Redux Grunge collection is an exact copy of a grunge fashion collection that Jacobs designed for Perry Ellis in 1993, as the brand's creative director. It was his last collection before he was fired from the company, which only gives it more street cred. The collection was an iconic moment in the fashion world, making it one of the few collections that insiders constantly reference. But since leaving Perry Ellis and founding his Marc Jacobs label, Jacobs has grown his company into one of the biggest names in the industry. Last night the designer partied in his brand-new flagship store alongside his fiancé Char Defrancesco, Kim Gordon, and Kaia and Presley Gerber. The party was hosted by Jacobs, director Sofia Coppola, and stylist Katie Grand.
It may not have been a grungy location — the cavernous store is filled with reflective surfaces — but the party guests' outfits were on point. Gigi Hadid wore space-buns on her head and a Beetlejuice-inspired suit. Grace Coddington (who put the original grunge collection in Vogue) showed up along with stylist Carine Roitfeld. Even model Lindsey Wixson, back from retirement, was there in full grunge. The crowd danced to Kim Gordon's performance while taking Juul breaks, because some things never change.