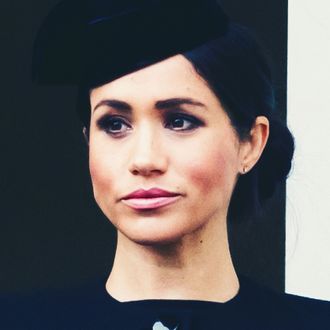 Meghan Markle.
Photo: Samir Hussein/WireImage
Lately, Meghan Markle has unfortunately had to deal with a ton of negative tabloid reports about everything from her work ethic (which is reportedly too good) to where she will be living in a few months (Frogmore Cottage) and claims of a feud with Kate Middleton (which does not seem to be the case). But right on cue, her messy father, Thomas Markle Sr., decided to speak with the Daily Mail over the weekend to create more drama for his duchess daughter.
It's already common knowledge that Thomas has a nasty habit of talking to the press about his daughter — exploiting his position as her father for personal gain (as he's reportedly been paid for photos in the past) and to push his own narrative about their relationship. According to the Sun, Meghan had instructed British royal family to ignore her father and cut off all contact with him. But now, Thomas has yet another "exclusive" interview to the Daily Mail, in which he plays the victim for being ignored — while sharing his daughter's personal letters and his opinions about her life (though the tabloid does state that he did not receive or ask for payment for the new interview).
What Thomas has to say doesn't warrant full repeating; he admits that he is not in touch with his daughter or her family, so his comments about her current life are speculative at best. But Thomas does talk about trying to get in touch with Meghan — complaining that his texts to her have gone ignored and that he even wrote a letter to her mother, Doria Ragland, to attempt to reach Meghan. "Everyone says, why don't I just shut the fuck up? That Meghan can't speak to me because I'll give away secrets. But that's bullshit," he said, before going on to … give away secrets.
This interview merely falls in line with Thomas's pattern of airing his dirty laundry publicly. Before the royal wedding, he kept on going back and forth with TMZ over whether he'd attend (in light of the scandal over his staged paparazzi photos) — instead of handling the matter privately with Meghan (who was already facing relentless and abusive tabloid coverage). Since then, he's gone on to attempt to pick fights in the press with Queen Elizabeth, given additional interviews (like the latest one) that violate his daughter's privacy, and reportedly caused the palace to go into a "crisis" as it tried to figure out what to do about the messes he keeps making.
We can all safely assume that this almost certainly won't be Thomas's last interview about his daughter, which means the headlines he creates will just keep on coming. The best we can do is to take what he says about Meghan with a grain of salt (or rather, an entire salt shaker), and remain cognizant of his possible motivations in speaking out.