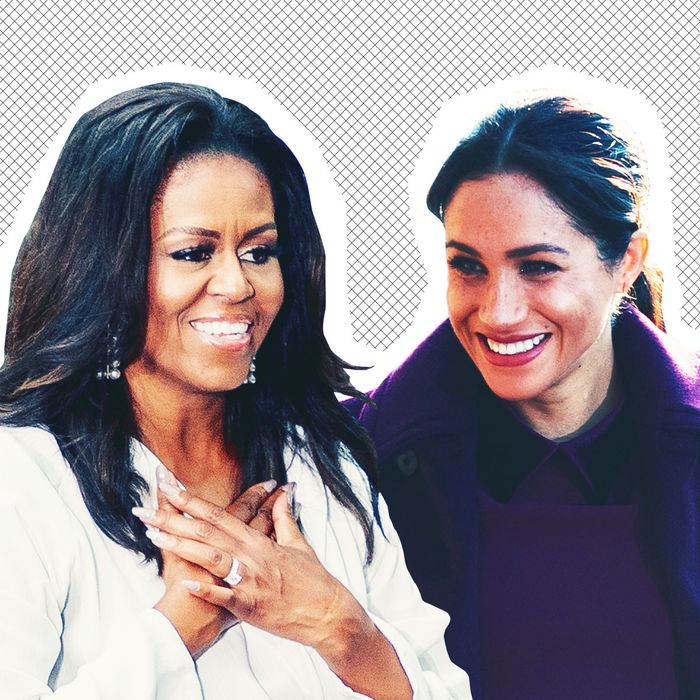 Michelle Obama and Meghan Markle.
Photo: Getty Images
As royal rumors continue to dominate the tabloids, it appears Meghan Markle is still doing what she loves most: working (much to the apparent horror of certain royal aides). In fact, on Monday night, the duchess of Sussex reportedly even held a secret "power meeting" with Michelle Obama to discuss important causes and issues that both women are working on.
As the Evening Standard reports, Meghan and Michelle met in a private capacity — meaning it was not an official royal meeting — on Monday night in London, while the former First Lady was in town to promote her new memoir, Becoming. The pair reportedly met to discuss their "shared" causes, including promoting girls's education around the world. Per the Standard:
A friend who was also at the event said Meghan "had a long private audience with Michelle. They spoke at length about the importance of supporting and empowering women across all cultures and communities. They also talked about shared experiences of pregnancy and raising children, plus shared causes including girls' education."
The meeting came after the former First Lady's book-tour stop at the Royal Festival Hall, a sold-out event that featured a conversation between her and writer Chimamanda Ngozi Adichie. The Standard notes that Meghan was in attendance during the event, and the women chatted backstage. The "friend" in the report said that the two women formed a strong bond and will likely stay in "close contact" moving forward — and that Meghan had said she felt "welcomed" in London.
Prince Harry has met with the Obamas several times — and even interviewed former president Barack Obama while serving as guest editor of BBC Radio 4 last year. Furthermore, before the "power meeting," Michelle had publicly offered Meghan some advice for dealing with life in the spotlight (namely, take your time and don't rush things). We can only hope Meghan and the former First Lady will hang out in public sometime soon.