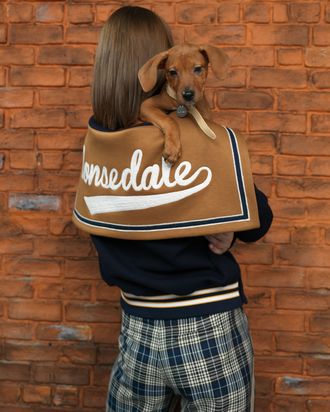 Designers have long used dogs in campaigns and editorials (hello Ralph Lauren), but Monse's shoot for pre-fall takes it a step further. Not only can you buy the clothes in the campaign, you can also adopt all of the dogs from six local New York shelters, Animal Haven, Best Friends Animal Society, Bidawee, Rescue City, Rescue Dogs Rock, and Social Tees.
The brand, helmed by designers Fernando Garcia and Laura Kim (who are also the duo behind Oscar de la Renta) decided to collaborate with the shelters for a very simple reason: "We just love dogs so much at Monse," Garcia told the Cut. The campaign also shows off their upcoming Disney collaboration with Pluto. He appears on sweatshirts and cardigans in a collection that will launch in May, along with the pre-fall clothing.
But back to the dogs. Monse also designed ten items for dogs and humans that will go on sale now. All of the money will be divided up and distributed to the six shelters where the dog/models were cast from. If you're looking for a dog or just need a pick-me-up in the shape of a dog, check out the photos below. If a specific pup catches your eye, Monse's website and social media have information on how to adopt.