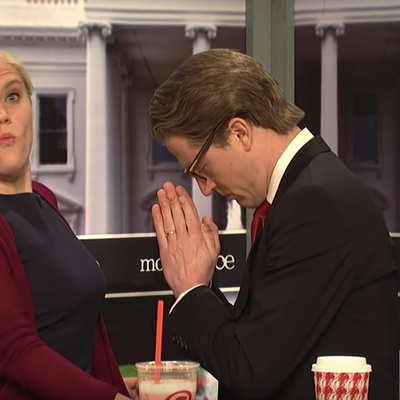 Saturday Night Live imagined a post-secret wedding version of Morning Joe, where newlyweds Mika Brzezinski (Kate McKinnon) and Joe Scarborough (Alex Moffat) simply couldn't contain their awkward, uncomfortable sexual desire for each other. Taking brief interludes in their fawning over each other, they tried to conduct interviews with guests — but end up getting distracted by each other, and their secret wedding last Saturday.
"Have you been … living in sin," Mika pouts at Joe. "I have, I've been having … impure thoughts," Joe replies. "Wow," Mika responded. The devastatingly uncomfortable exchange continued, as guests Willie Geist (Mikey Day) and Representative Elijah Cummings (Kenan Thompson) stare on in extreme discomfort. The exchange finally stops, and Mika goes back to sipping on her third Jamba Juice of the show.
In her first Saturday Night Live "appearance" Representative-elect Alexandria Ocasio-Cortez (Melissa Villaseñor) was the next guest on the show. She described her much-discussed millennial lifestyle to Mika and Joe, saying she still worked for the freelance website TaskRabbit, and was a bartender at Mexican restaurant until "11 minutes ago." Smiling widely and wearing a pair of oversized glasses, Alexandria listens as Mika and Joe compliment her accomplishments.
"Hi Mika, Joe. Look at me! I'm different," Alexandria exclaims. "I'm a millennial, so getting any full-time job is overcoming incredible odds. I'm actually still working for TaskRabbit."
The interview with Alexandria came to an end, and Mika and Joe continued to talk about their wedding, and be aggressively sexual on air. Watch the full clip below.