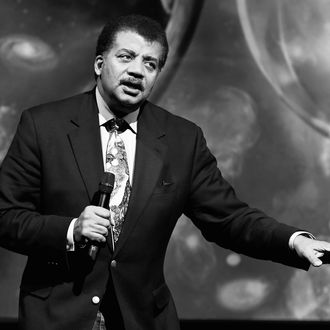 Neil deGrasse Tyson.
Photo: Craig Barritt/Getty Images for Onward18
Neil deGrasse Tyson issued a response to multiple allegations of sexual misconduct on Saturday, posting a note to his Facebook page denying the claims.
"In any claim, evidence matters," deGrasse Tyson said. "Evidence always matters. But what happens when it's just one person's word against another's, and the stories don't agree? That's when people tend to pass judgment on who is more credible than whom."
It is not just a "he said-she said" scenario between Tyson and one accuser, however. The allegations made against him span across decades, from three different women. Musician Tchiya Amet claims that deGrasse Tyson drugged and raped her in the 1980s, while they were in graduate school. (Tyson said they dated, but that he never assaulted Amet.) A 2009 allegation comes from a woman who said that deGrasse Tyson inappropriately touched her while looking at her tattoo of the solar system. (DeGrasse Tyson says that he never realized that his actions were creepy.) The most recent allegation is from 2018, from a woman named Ashley Watson.
Watson was working as an assistant and driver for deGrasse Tyson while he filmed his show Cosmos, and one night, he invited her into his apartment for a glass of wine. She accepted the invitation, thinking that they would discuss her future on the show, but instead, according to Watson, he put on Nina Simone's music, pulled out a cheese board, and told her that he needed a "release."
When Watson tried to leave, deGrasse Tyson asked her to do to a Native American handshake with her, she told NPR. The handshake involved feeling each other's pulse and making eye contact. She left and didn't plan to say anything about what happened, until the next night, when derasse Tyson allegedly told Watson that she was too distracting to be a producer. Watson decided to leave the show early but didn't file a complaint. "I just didn't want to make a fuss," Watson told NPR.
"I'm the accused, so why believe anything I say," deGrasse Tyson wrote. "Why believe me at all?"
"Accusations can damage a reputation and a marriage," deGrasse Tyson's statement continued on Facebook. "Sometimes irreversibly. I see myself as loving husband and as a public servant — a scientist and educator who serves at the will of the public. I am grateful for the support I've received from those who continue to respect and value me and my work."