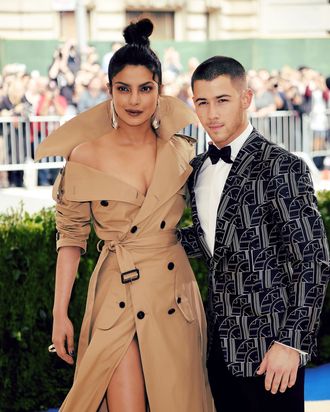 Priyanka Chopra and Nick Jonas.
Photo: Dimitrios Kambouris/2017 Getty Images
The wedding festivities of the Jonas-Chopra union have commenced. The traditional celebrations began on Wednesday, and will continue until Sunday.
The wedding will include multiple ceremonies leading up to the main event. It began with a Hindu ritual prayer called pooja, and was followed by sangeet, mehndi, and haldi ceremonies.
Because there has been a social media lockdown, not much has been seen from the wedding, until Saturday, when Priyanka posted some pictures and videos to Instagram.
And not just any videos, videos of the entire Jonas and Chopra families engaging in a fierce dance competition, as part of their sangeet. Each family was tasked with dancing out the way that Nick and Priyanka met. (Hopefully including the part where Nick patted her on the back after hanging out once.)
Joe Jonas, Sophie Turner and Kevin Jonas all took part, taking to the stage for choreographed routines. Considering that Nick and Priyanka have extensive experience in show biz, the dance-off did not underwhelm. (Scroll through these pics on Instagram to see more).
"Nick and I were looking forward to the sangeet (musical evening), another pre wedding ritual," Priyanka wrote on Instagram. "Each family telling our stories through song and dance, filled with lots of laughter and love. We were both filled with gratitude for the effort, the love and the laughter and will carry the memories of this special evening for the rest of our lives."
In a post from Saturday, Priyanka also shared photos of the mehndi ceremony, which involves the bride receiving henna tattoos. She wrote on Instagram that the mehndi is an "important part of the pre wedding rituals." She also wrote that it was an afternoon "that kicked off the celebrations in a way we both dreamed."
Jonas, too, uploaded photos of his own to Instagram.
And on Sunday, the couple stepped out for the first time as a married couple in Jodhpur, India, where Chopra wore turquoise and Jonas donned camel.
To quote Chopra in her two latest Instagrams, "forever starts now."