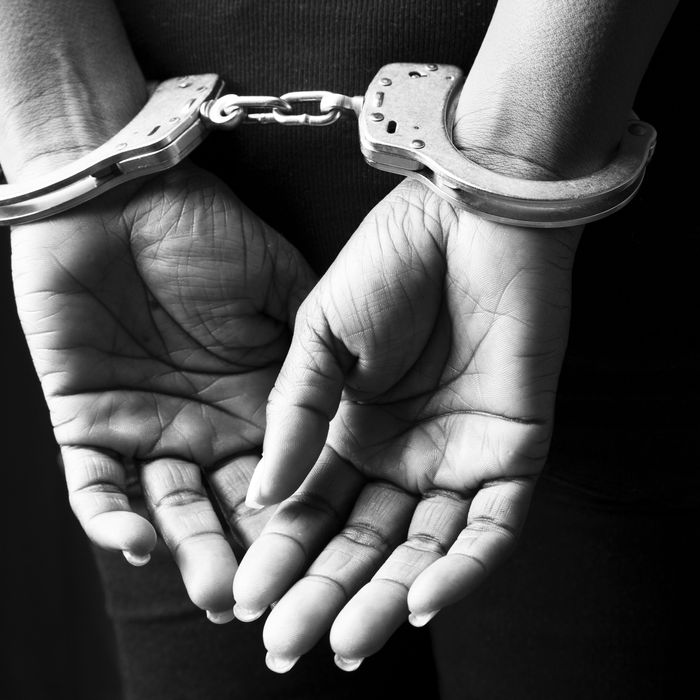 Photo: Bill Oxford/Getty Images
A New York woman says that police forced her to give birth while she was handcuffed to her hospital bed, a blatant violation of the state's anti-shackling law.
In a lawsuit filed Thursday with Manhattan's Federal District Court, the 27-year-old woman — who has requested anonymity because she's humiliated by the incident — claims that just hours after being arrested and charged with a misdemeanor over a family dispute on February 7, 2018, she went into labor in her holding cell. She had been planning on having her baby at the Bronx Lebanon Hospital with her partner at her side, but the suit claims that the New York City Police Department handcuffed her and took her to Montefiore Medical Center. Once there, an officer reportedly shackled her ankles together, refusing to listen to the medical staff's protests until she was about to give birth.
"Moments before Ms. Doe delivered her daughter, a growing chorus of outraged doctors convinced the NYPD to briefly remove her shackles," the suit reads. "At 6:14 a.m., Jane Doe gave birth to her daughter. Shortly after she gave birth, NYPD officers again shackled her, ignoring the doctors' continued pleas. Ms. Doe struggled to feed her new baby with one arm."
While six states have no policies against the shackling of female inmates who are in labor, New York is not one of them. In 2015, New York passed legislation prohibiting the shackling of a woman at any stage of her pregnancy, and in the eight weeks after giving birth. Per the suit, medical staff informed the officers of this law, but the officers said their NYPD patrol guide superseded state law.
Those named as defendants in the woman's suit include five named NYPD officers, other anonymous officers, the City of New York, and the NYPD. The woman is calling on the NYPD to ensure no woman is ever shackled during childbirth again, and is seeking damages for a violation of her civil rights.
"This is a civil rights case about the egregious failure of the NYPD to protect the health, safety and dignity of a woman at one of the most important and vulnerable moments of her life," the suit reads. "Shackling is a dehumanizing, cruel and pointless practice that has no place in New York City in 2018."