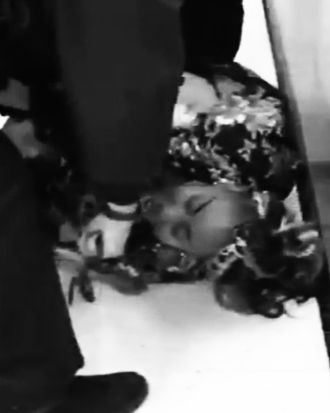 The NYPD is facing widespread criticism after several officers were filmed trying to rip a baby out of his mother's arms in Brooklyn.
ABC 7 reports that the incident occurred at a Human Resources administration building in the Boerum Hill neighborhood. Twenty-three-year-old Jazmine Headley had gone to pick up day-care vouchers on Friday, bringing her 1-year-old son, Damone, along for the visit.
The agency was crowded and there weren't any available seats, so Headley sat down on the floor with her son while she waited. Security guards asked her to stand, but she refused, leading to an argument. Security then called police.
What ensued was captured in a disturbing video, in which officers can be seen trying to pry Headley's baby away as she yells "you're hurting my son" repeatedly.
"She called five other security guards," Nyasia Ferguson, who filmed the video, said. "All harassing her, bothering her. Everyone … was like, 'Leave the girl alone, she's not bothering anyone, just sitting there like all day,' they kept harassing her."
The NYPD called the video "troubling," and said that they are investigating.
Headley is now being held at Rikers Island, where she faces several charges, including resisting arrest and harming her own child.
Several local lawmakers have responded to the incident since the video began circulating. Brooklyn Borough President Eric Adams is planning to rally outside of the HRA offices to call for those charges to be dropped this morning. NYC public advocate and state attorney general-elect Letitia James said, "Being poor is not a crime. No mother should have to experience the trauma and humiliation we all witnessed in this video." And City Council speaker Corey Johnson condemned it as "unacceptable, appalling and heart breaking."
The Cut will update this post as new information becomes available.
Update, December 11, at 12:43 p.m.: According to Scott Hechinger of Brooklyn Defender Services, the Brooklyn District Attorney has dropped all recent charges against Headley. However, she's still incarcerated at Rikers Island due to separate charges from a previous warrant in New Jersey. Brooklyn Defender Services also started a GoFundMe to help Headley pay for childcare.
Update, December 12, at 9:01 a.m.: A Brooklyn judge ordered Headley's release on Tuesday night. "I'm just happy to be free, and I need to see my boy," she told reporters.