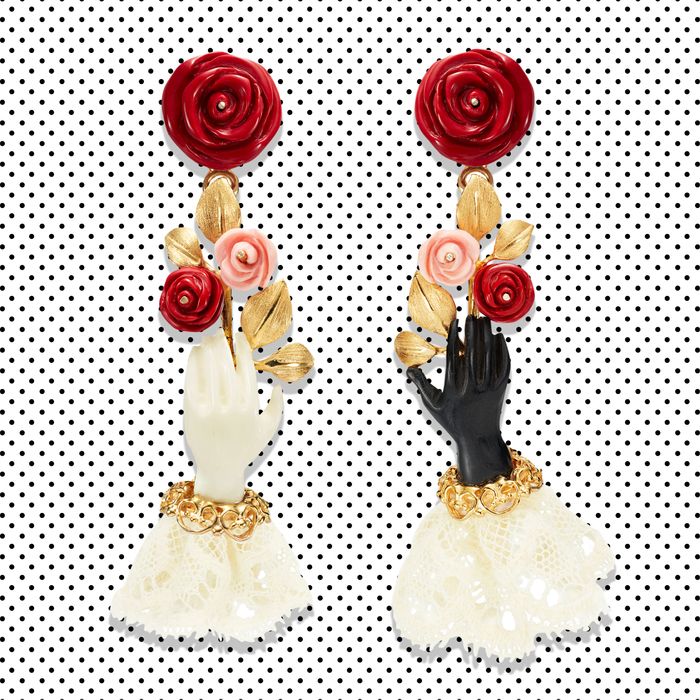 Photo: Courtesy of the Retailer
Mercury retrograde is over and my star sign says I can shop online again! What better way to enter back into the world of spending than with a pair of truly over-the-top earrings?
There's a whole story behind these earrings, but get ready because it involves a lot of proper nouns. Designer Leslie Tcheyan and her daughters Octavia and Thea Giovannini-Torelli are the family behind whimsical fine jewelry line Of Rare Origin. Their Forget Me Not collection was inspired by the flower of the same name and is meant to make you think fondly of certain people, memories, or sentiments in your past. It features sculptural hands holding carved pink and red roses, finished with a gold-and-lace cuff.
The Of Rare Origin ladies were at the Bleecker Street store Lingua Franca, showing owner Rachelle Hruska the collection, when they realized the cuff reminded them of something: a painting in the window by the artist Ashley longshore of Ruth Bader Ginsberg's famous lace collar. And thus a pair of charitable earrings was born. Buy them, and a percentage of the sales will go to the Surfrider Foundation, which aims to protect the ocean.
Is this all slightly convoluted? Sure! But if you're a fan of RBG, hands, Victorian whimsy, mother-daughter businesses, the world's oceans, or forget-me-nots, then please join me in admiring these beauties.