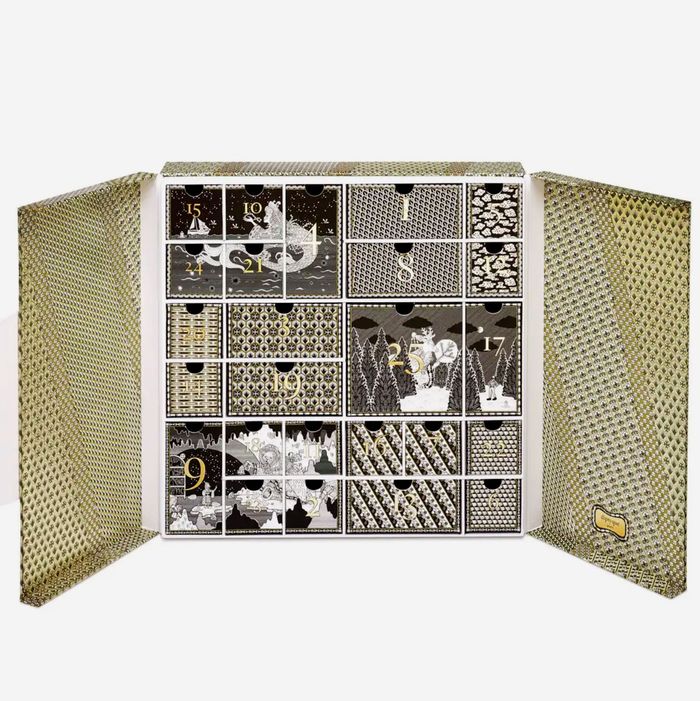 Photo: Courtesy of Diptyque
"Three words, eight letters. Say it and I'm yours." When Blair Waldorf gave Chuck Bass this famous ultimatum, she was, unfortunately, not referring to the words "luxury Advent calendar." (This explains the letter miscount.) This was a mistake, on her part. She should have been asking Chuck for a luxury Advent calendar. Why not? He could afford it. He's rich!
For those who don't know, an Advent calendar is a little box containing windows that children open on the days leading up to Christmas. The little windows typically have within them pieces of chocolate. It's a nice treat. The luxury versions, for monied adults, can contain everything from premium whisky, to Balmain hair products, to Prosecco-themed goods. Insane. Amazing. Ridiculous. An even nicer treat that a piece of chocolate. Truly, can you think of three words more evocative than "luxury Advent calendar"? I simply cannot. And I'm trying!
Diptyque's version of the luxury Advent calendar contains candles and various other tiny, fancy things. Here's how they describe it:
25 little pleasures to discover before Christmas.




The advent calendar brings together holiday treasures in a magical box. Emblematic products of the House in discovery formats make everyday a celebration: 15 mini candles, 7 personal fragrances, and 2 body care products and a limited edition surprise.
Twenty-five little pleasures to discover before Christmas? Oh my God. Obviously that sounds unbelievably good and I love it so much…
…But is it unbelievably good and do I love it so much? Let's see.
Is the Advent calendar good?
Oh my God, yes. I do want to say one complaint about it up front, however. As you can tell from the photo, the little treat cubbies are easily openable without damaging the integrity of the Advent calendar. Of course, this means I looked in every cubby immediately upon receipt of the calendar. I am only human. I do not have the self control necessary for the current iteration of the Diptyque Advent calendar.
I'm not sure what the elegant solution to this would be, though. You can't have little paper windows you tear open on a $425 Advent calendar. (It costs $425, I know, we'll get to that next.) My thought is that it could maybe be some sort of velvet ribbon situation. Like all the ribbons fasten the cubbies shut, tied in a bow. That way when you untie the ribbon, you're left with just an elegant little cubby. But you don't want to untie all the ribbons right away. So the surprise remains. Yes?
Diptyque, please let me know if yes.
How much does it cost, and how long will it last?
It costs $425. I know. I know. I know, I know, I know. This is why Blair should have asked for one from Chuck (not that she couldn't afford it herself, I'd just sleep better knowing it was the Bass family who had to take care of the bill). The candles inside, save for the "limited edition surprise" candle, are tiny, 1.2 oz versions of Diptyque's standard 2.4 oz mini candle. Their burn times are approximately 15 hours each, and they are cute. The other products inside are the size of a very generous sample.
When should you burn these candles?
My recommendation would be on the very day you open them. The same goes for the perfume samples. Spray a little on day-of, and then keep it for whenever you feel like wearing it next. You must live in the moment. If not when opening your Diptyque Advent calendar, then when?
Who should buy this Advent calendar?
Chuck Bass, as previously stated.