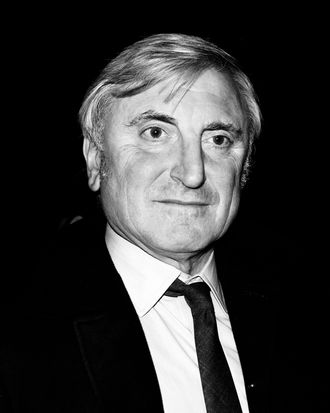 Julian Niccolini.
Photo: Amy Sussman/Getty Images
In the aftermath of the #MeToo movement, navigating the creations bad men have left in their wake has been difficult. Shitty men have dominated our culture for a while, and now that some have been exposed for their bad behavior, many critics are grappling with how to evaluate the films, literature, and restaurants forever marked by what they did. Pete Wells's review of the "second coming" of the Four Seasons for the New York Times on Tuesday marked a path forward.
Wells was tasked with reviewing the newest iteration of New York's famous Four Seasons restaurant, co-owned by Julian Niccolini, a man with a history of sexual abuse. In 2016, he plead guilty to a misdemeanor assault after being accused of violently groping a 28-year-old woman. When asked by an Assistant District Attorney if he'd touched the woman in a way that caused "scratches and bruises to her hip and thigh," Niccolini responded "yes." He served no jail time for his crime, but his predatory behavior is inextricably linked to his restaurant.
In his review, published on Tuesday, Wells grappled with the realities of Niccolini's past while acknowledging the aspects of his restaurant that were worthy of praise. He opened the piece with five full paragraphs summarizing the charges against Niccolini before he even addressed the merits of the restaurant (or the food). Wells acknowledged the difficulty of the task in front of him, and wrote a review that is being hailed as a new model of how to critique the aspects of our culture that have been tarnished by the men who run them.
"I know people who will never eat at the Four Seasons because they don't want to give Mr. Niccolini their money," Wells wrote. "I understand this. I also know people in the food media who think the Four Seasons should not get any coverage as long as Mr. Niccolini owns a piece of it." He went on:
Their stance rests, I think, on the idea that writing about powerful men who have been accused of abusing women amounts to condoning the abuse and helping the abusers stay in power. While it's true that media attention is often like oxygen to restaurants, critics have the power to tell a story other than the one the restaurant is pushing. Even when we're not writing a pan, a fair assessment often requires weaving shining threads with ugly ones.




The ugliest threads at the Four Seasons happen to be ugly enough to make many people stay away. But there is beauty in the fabric, too.
He closed the piece by admitting that there is no simple way address the merits of place like Niccolini's Four Seasons.
All of this and a generous budget (the prices are as exclusionary as ever) could make for a few hours of celebratory sightseeing of a kind that is quickly disappearing from the city. The Four Seasons offers an escape from the outside world. Escaping from what's inside, however, takes a mental effort that is beyond me and will probably be beyond many others as well, whether Mr. Niccolini is in sight or not. During my three meals, I never saw him.




Restaurants, even grand ones like the Four Seasons, are intimate places; eating is an act that requires trust and a sense of safety. We want to get up from the table feeling restored on all fronts except the financial one. Mr. Niccolini's actions have done serious damage to his power to provide that feeling, even as he and Mr. von Bidder have made the restaurant better than it has been in years.




This review will not be tied up with a bow. All I have are threads.
His effort was widely regarded as a success.
On Thursday, Helen Rosner of the New Yorker wrote that the piece was "a marvel." Of the last three paragraphs in his article she writes that they are "a watershed in restaurant criticism. What I find exasperating about the 'debate' about reviewing harassers is it's not a debate at all. How can you say their actions don't matter? This ends it. This lays it down."
Others called it "required reading for anyone covering anything related to #metoo" and that Wells's review "sets the stage for how to cover restaurants marred by sexual assault."
A year after MeToo began, we're still grappling with the impact of the movement. Pete Wells provided an idea of what criticism might look like in the future, through a careful consideration of a meal, a place, and a man.