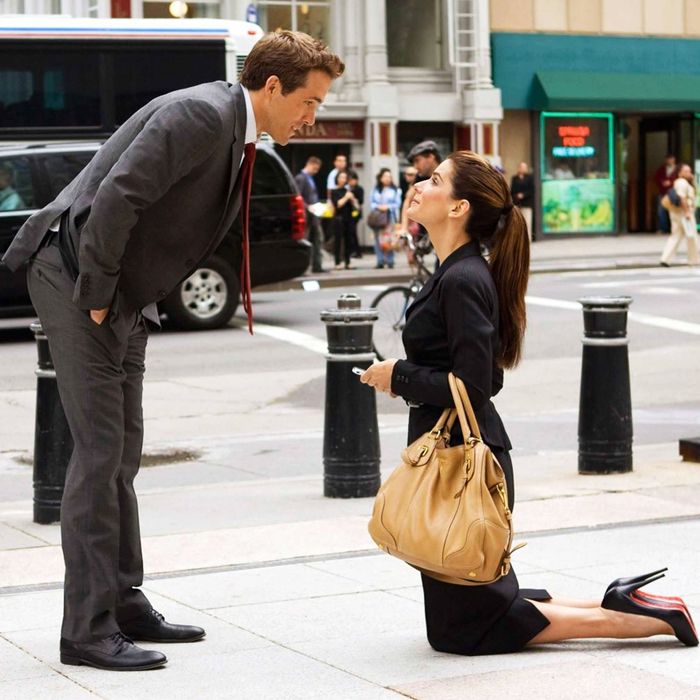 Ryan Reynolds and Sandra Bullock in
The Proposal
.
Photo: Moviestore/REX/Shutterstock
Pinterest has done a lot for weddings. Between mason jars, twinkle lights, and the false sense that yes, actually, everything is under control, the digital mood board has become as much a part of the marriage process as the proposal. And it seems that Pinners are using the platform for inspiration around popping the question, too — in ways that do away with archaic, patriarchal standards.
According to new data from Pinterest, the search term "women propose to men ideas" is 336 percent more popular year-over-year. As for what advice that proffers, it's still mostly stock photos of all manner of love and romance tropes — including one of a woman presenting a long-stemmed red rose to her man in the middle of the road. But the search also yields a pin featuring The Proposal, the Sandra Bullock–Ryan Reynolds vehicle that asks, "What if Miranda Priestley's origin story, but in Alaska and co-starring Betty White?" Its corresponding article has rightly dubbed this one of the "30 Most Romantic Movies Ever." Could a fun and elaborate proposal idea involve re-creating the finer points of this film?
The Pinterest search term showing the biggest growth from last year, however, is "unique lesbian proposals," which saw a 1,352 percent jump. (The results aren't perfect: Images of opposite-sex couples still snuck in there, as did a listicle for "15 Things Men Love About Pregnant Women," which seems to misunderstand the intended audience entirely.) While same-sex couples have entered committed relationships since time immemorial, marriage equality has only been considered a constitutional right since June 2015. So it's likely that searches like these will continue to rise.
Pinterest also highlighted other wedding-related trends; Asscher-cut and double-halo diamond engagement rings are having a moment, as are emeralds and black diamond styles. On the general travel front, the report showed that Paris and Tuscany seem to be destination points of interest for Pinterest users — for a honeymoon, perhaps? But what really caught my attention was the search for "abandoned amusement parks," which saw a 185 percent surge in popularity. American Horror Story: Freak Show: Wedding theme or commentary on heteronormative ideals? Why not both?