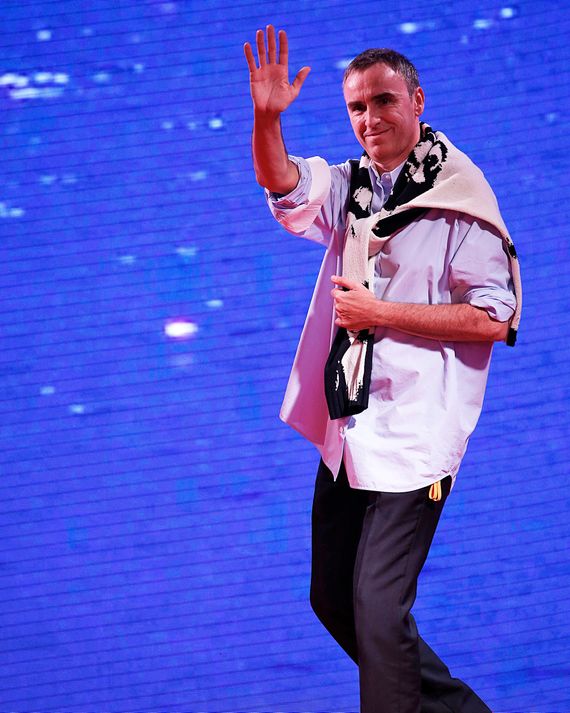 Raf Simons.
Photo: Victor Virgile/Gamma-Rapho via Getty Images
Late on Friday, Calvin Klein announced that it had cut ties with Raf Simons nine months before his contract would have expired. The news sent shockwaves through the fashion world at the end of the worst week for the stock market in a decade and as the U.S. government braced for a shutdown. People will no doubt see this departure as proof that American brands can't be reinvented in the European luxury model, and also as one more log on the bonfire that is New York Fashion Week.
But this is primarily a tale of wasted effort — on the part of Simons and his team, and on the part of committed Calvin Klein executives. The whole sorry chapter will be written off with a fatalistic I-told-you-so perspective that feels as distinctly American as the horror movies that inspired Simons's collections for the brand.
Calvin Klein, under Simons, certainly looked poised for success. In 2016, executives, including the CEO, Steve Shiffman, recognized that the company, despite spectacular sales in jeans, underwear, and moderate-priced sportswear, needed a creative infusion in order to maintain relevance. They needed a fresh advertising and marketing image (once a hallmark of Calvin Klein) instead of just relying heavily on Justin Bieber and the #mycalvins social media campaign. They needed to open more boutiques and renovate the Calvin Klein flagship on Madison Avenue, which hadn't been reimagined since John Pawson designed it in the mid-1990s. Shiffman had the support of Emanuel Chirico, the chief executive of PVH, which owns Calvin Klein, as well as brands like Tommy Hilfiger. In choosing Simons, Calvin executives had a proven horse. Simons had worked magic at Jil Sander, surprising insiders with his colors and updated minimalism, and he'd brought a sharp modernity to Dior, while also boosting sales.
Until this past summer, after three well-received runway collections and several awards for Simons, there was little reason to believe that the Calvin-Raf partnership wasn't going well. In May, Chirico told investors, "We couldn't be happier with Raf's contributions to the brand." Shiffman and others also expressed delight.
By November, however, when Chirico addressed third-quarter results during a call with analysts, the situation had changed. He flagged some of the new Calvin Klein jeans as "too elevated," and said "we went too far too fast on both fashion and price." I would agree that the company went too fast, but surely Chirico must have picked up on that before the 3rd quarter? You also have to wonder if a problem wasn't just the pace of change but also speed bumps. Were the production and delivery of clothes and accessories fully up to stride? According to news reports, Simons felt undermined when marketing and other teams within the company were put under the control of Marie Gulin-Merle, hired in February from L'Oréal. Simons claimed her hire was a breach of contract, since as chief creative officer he was supposed to be in charge of these things.
In hindsight, it seems clear that despite their best efforts (or hopes), Simons and Shiffman never really made a team together — the way, say, that Tom Ford and Domenico de Sole did at Gucci in the 90s, or Silas Chou and Lawrence Stroll did with Hilfiger and later Michael Kors. It's also hard to believe that the "fashion misses" that Chirico referred to in the November call were so difficult that they couldn't have been ironed out. Of course, that required a shared vision.
It's possible that there was a culture clash between Simons's creative team, which included people he has worked with for years, and some of the corporate folks at Calvin. Simons can be rigid at times. He felt strongly about having an artistic tie-in with Andy Warhol, and yet, to my mind, the connection seemed somewhat forced. Warhol might be a worthy source of inspiration, but it's tough to sustain any reference to the artist beyond a season without customers feeling restless or schooled.
The paradox in all this — or maybe it's the regret—is that Simons and his team are capable of dreaming up beautiful clothes. And indeed there were some incredible things in Simons's Calvin Klein, especially the quilt-inspired coats from his first collection, the photo-printed dresses, and a lot of the western wear. The presentations were also thought-provoking, as relatively few shows are today. But there was a missed opportunity to create clothes that were simply beautiful, to again reinterpret minimalism. Who knows whether, with more time, Raf would have done that at Calvin.
To a great extent, success in fashion depends on reading the market. That doesn't mean crowding your Instagram with fleeting influencers, but it's certainly true that the message has to be more simplified today than even five years ago. There are just too many images clogging our senses. I think Simons, as much as Shiffman and other executives, didn't completely have a sense of the market and their message. It was there in glimpses — the imagery of film, the allure of fame, the hint of danger — but it needed a critical reassessment that came too late or not all.
I won't accept that big, publicly-owned American brands can't be reshaped. The day will come when someone reinvents one of our iconic labels — Ralph Lauren, say — and everyone will cry, 'Why, of course!" It takes imagination on both the creative and the corporate sides to push an industry forward. It takes individuals who truly share the same vision, who understand modern markets, and who have a realistic timetable for success. But for now, we just lost one of the best European designers ever to come to this country and try.