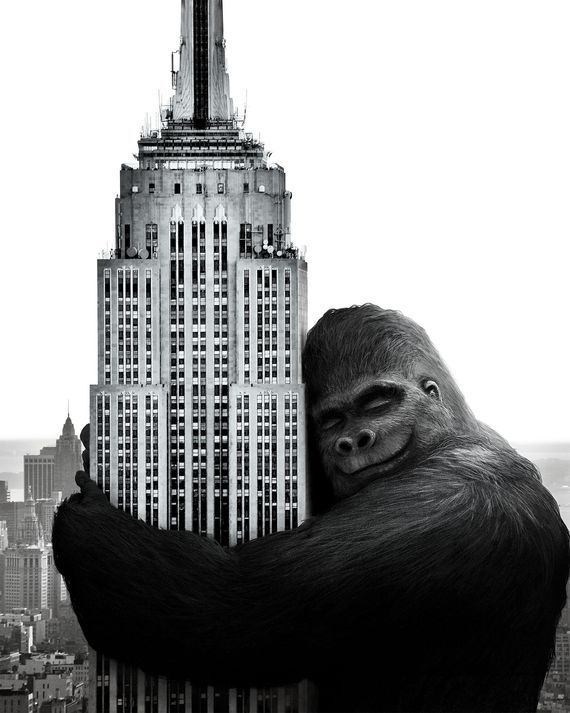 Photo-Illustration: Artwork by Dmitry Maximov. Manhattan skyline source photograph by Peter Adams.
For this, our 14th annual "Reasons to Love New York," all the reasons are places — some timeless, some odd (the underbelly of a Washington Heights pool?), some secret, some soothing, some technically illegal to occupy, but each beloved by the people who chose them. If we all carry a customized map of the city in our minds, consider this a chance to add a few new pins to yours.
Theodore Roosevelt Birthplace National Historic Site
For good and bad, New York is notoriously unsentimental when it comes to preserving historic sites (there is no past or future in the city, only an unending transactional present: Case in point, who needs a museum devoted to Andy Warhol's Factory in Union Square when that same space could accommodate a Petco?). My favorite exception is the brownstone on East 20th Street devoted to the birthplace of Theodore Roosevelt (technically, the house is a re-creation from 1923, the original demolished in 1916, even furthering the unlikelihood of its survival). Roosevelt isn't my favorite president, and I have a firm policy against exotic taxidermy, but this inconspicuous jewel of a museum is such a beautiful, sober sanctuary with its displays of bewildering artifacts. In my wilder 20s, when I lived in Gramercy, I would often take dates there — the small, delicate rooms encouraged intimacy, and yet what weirdo on my level would enjoy the case displaying the manuscript in Roosevelt's pocket that slowed an assassin's bullet? —Christopher Bollen, writer
"A Really Weird Street, Around 191st."
It's like the city planners who were taking over this Dutch farmland just fucking threw their hands up, because there is a building on the side of it — I want to say it's Hillside Avenue, but I know that's not right. I'm going to find a picture of it [pulls phone out of pocket]. But it's this crazy building, and we actually used it as the basis for the poster for In the Heights.
If I Google Map, I'll find it. Hold on. I like walking up this hill. It used to be where my grandmother's senior center was. Okay, Street View — Fairview! Fairview Avenue!
The building is so strangely shaped. Look at that! It's a flatter Flatiron Building! It cuts Fairview Avenue in half, and this street is about one story higher than that street. And the building accounts for that.
The weirdness of it appeals to me. A neighborhood can change, gentrification happens, but no one's going to fuckin' fix that weird corner and that weird hill. There's some things that New York just does not negotiate. —Lin-Manuel Miranda, playwright-actor as told to Chris Smith
One Classic: The Chess Tables in Washington Square Park
I don't play chess, but I love the sense of quiet determination there — you can almost hear brains. —Lucinda Rogers, artist
East Broadway From the Manhattan Bridge …
Biking across, there are spots where you glimpse blocks and blocks of low-rise Chinatown tenements and loft buildings that suddenly, almost violently, erupt into the concrete jungle of the Financial District. I love the collision of neighborhoods. —Stephen Karam, playwright
… And the Middle of the Brooklyn Bridge, Looking South
My best hope of attaining perspective — or at least the illusion of it — usually involves a shore or a height. The Brooklyn Bridge's harplike cables and elevated wooden walkway make it feel like a relic of 19th-century New York — which of course it is. But the real thrill is the view south: a Richard Scarry compression of the beauty and excitement that first lured me to New York and has kept me enthralled for 31 years. The view is best at dusk, when you can see both ships lazing on the water and lights pricking the shore — not to mention helicopters swooping around, soccer being played on revamped piers, the bulky towers of Lower Manhattan, and, if you're lucky, a moon peering down on it all. —Jennifer Egan, novelist
My Favorite Place to Take Pictures, Part 1
The interconnecting labyrinth of squishy tar and rusted billboards in and around the rooftops of Chinatown is also the best place to watch the sunrise over Brooklyn after staying up all night — it's a lawless vantage point. —Chad Moore, photographer
My Favorite Place to Take Pictures, Part 2
Everyone drops their respective armor for however long their commute is on the subway, and observing moments of idiosyncratic beauty is as entertaining as anything I could find on Netflix. —Jammy Yoon, photographer
I remember coming back from Morocco after my first big modeling job, in love with preserved lemons. I came in expecting them to give me a dusty bottle in some corner, but they were like, "Yeah, we make our own" — and they're wonderful. —Padma Lakshmi
The silences are interrupted by wood blocks or different bells. But also there's the reality of being in New York, so sometimes you're sitting in meditation and then there's a trap song playing outside the window. —Weston Minissali, composer for the band Erica Eso
Huge Pump Room Under Highbridge Pool in Washington Heights
You'd never think there was a pool overhead. But you can hear the people up there having fun. And sometimes when we're working, we dive in too — to take care of the drains in the bottom. —Colin Schieren, NYC parks plumber
I have a kind of romantic association with that table. I went in college, and later it was where I first courted my husband, Arnold. Also, they're like the last people on Earth to serve ice-cold butter, which, to me, is the way it's done. —Isaac Mizrahi, designer
Reverend Ike saved it from being demolished by turning it into a church. Now it's a theater again. Seeing The Sound of Music in a packed 3,400-seat auditorium is a glorious experience. Had my ass humming along with Julie Andrews. —Victor Lavalle, novelist
The West Gallery at the Frick
Rembrandts, Vermeers, Turners, Goyas, Velázquezes, Bronzinos, all in one great open, day-lit space. And while you're there, you can marvel that all of this at one point was a private residence. —David Zwirner, gallerist
Listen, we never stop to rest. Taxi drivers are like slaves. I like it because it's nice and clean. The food is fresh, guaranteed. And I am originally from Punjab. —Lal Singh, yellow-taxi driver of 35 years
The 24-Hour Ukrainian Restaurant That Proved Cuomo Wrong
When Andrew Cuomo sued me in 2014, claiming I did not live in New York for the five years you need to be governor, we had to dig up bank statements. They showed visits to Veselka. Borscht after watching rom-coms with my roommate. Cuomo lost the suit. —Zephyr Teachout, law professor
Slocum Memorial Fountain in Tompkins Square Park
A weatherworn memorial to the victims, mostly women and children, who perished when the PS General Slocum burned and sank in the East River in 1904. I take a sip from its spigot and contemplate the suffering that morning when over 1,000 were lost. —Christopher Calin, orthodox priest
Where Stuff Gets Caught in the Teeth of the City
The freedom tunnel runs beneath Riverside Park for about 2.5 miles. It's maybe 20 feet high and wide enough to fly a small plane through. It got its name from a graffiti artist called Freedom, and the walls had been covered in some of the oldest graffiti in the city. Every couple hundred feet there's a ventilation grate in the ceiling. I always entered at 125th, and when you look south, you can see this kind of puzzle of shafts of light coming in. It's the light you see in cathedral windows. The graffiti has been painted in such a way that it's displayed in those beams.
God, the murals are stunning. They're like paintings of memories, objects from Freedom's childhood. There's a huge painting of an old baseball card, a 100-foot-long mural that's a kind of police noir in the form of a cartoon strip, and a reproduction of The Third of May 1808, by Goya.
You find remnants of the mole people who used to live in the tunnel. Up until the mid-'90s, there was a community of over 100 people there who'd built shanties, some of which even had electricity. I remember finding really old pages of the New York Times. Old paperback novels. All kind of weird trash. It's like stuff that gets caught in the teeth of the city.
You'll be walking along, feeling like you're totally removed from the city, and then you'll come to a grate and hear the voices of people in Riverside Park. One time I looked up and made direct eye contact with a woman looking straight down at me. Something clicked for both of us. —Will Hunt, writer, Underground: A Human History of the Worlds Beneath Our Feet
The island keeps getting left off the "best pizza in New York City" lists, but that's fine by me. Leaves more for the rest of us. —Max Rose, Congressman-elect for NY-11
Martin Greenfield's made suits in his own name for people like Obama and Eisenhower, but they call him the phantom tailor because he also makes suits for other designers. He's there every day. Really old guy. The Americans liberated him from Buchenwald. —Raoul Felder, attorney
The Staten Island Ferry After Midnight on a Hot Summer Night
The breeze is so refreshing, the lights of the city are so beautiful, and then there is this mix of people who have been up to no good. —Hank Willis Thomas, artist
My Old Block in Bay Ridge: 73rd Between Fourth and Fifth
It's truly a microcosm of the world. I saw many incidences of racism there, but also incredible acts of kindness. I miss it terribly. —Matt Zoller Seitz, TV critic
The Information Booth That Set Me Free
I was a teenager in Westchester. For a long time my mother didn't want me to go into the city alone. Just to be able to get to the information booth — it was a beacon of liberation. It was the late '80s. My friends and I used to call ourselves urban explorers. Which of course means trespassing. We got to the roof of Grand Central once. They would call in helicopters today! At that time, the city designated Grand Central as "deferred maintenance." I love that phrase. Not exactly a priority. It was just a huge hunk of architecture for us to climb around. —Speed Levitch, tour guide
Metropolitan, the Queer Bar "We Knew Would Pay Everyone Well"
I was just there on Thanksgiving, and I thought everyone would be out of town. Oh, no. They were all at Metropolitan. —Aja, drag artist
Yes, it's a wonderful place for kids to go, but don't underestimate taking psychedelic drugs and walking around while there are families there as well. —Nick Kroll, comedian
Another Classic: The Water Towers, Still Everywhere
I never miss a chance to sneak onto a New York rooftop and stand under the water tower, if there's one left. Like on a mountaintop, it's a quiet and lonely experience. Around me, ever-surprising juxtapositions of brick and glass castles. Above, a hulking presence that brings to mind a wood-and-iron spaceship about to launch. —Jorge Colombo, illustrator
Paul Deo's Planet Harlem Mural (at 126th and Malcolm X)
I remember my reaction the first time I saw it. I was trying to guess who was who. Ah, there is Louis Armstrong beside Dizzy Gillespie. And then Adam Clayton Powell and Ella Fitzgerald. Seeing everybody alongside each other, you suddenly recognize just how much all these figures were entrepreneurial in their sensibility. When you're being told you're a second-class citizen, it takes that sensibility to forge ahead. So the mural is like a wise friend who keeps reminding you of all the people you're indebted to. It shows a kaleidoscope of achievement, possibility, and promise in the face of long odds. It reminds me of that statement attributed to Lucille Clifton: They can call you by that name, but it doesn't mean you need to answer to it. —Garnette Cadogan, writer
It's one of the better places in the city to get absinthe. (A combination of bad timing and fake news essentially vilified absinthe around Prohibition.) You put on a hard hat and go down these steep steps into the cellar, and they've preserved artifacts of the original speakeasy, including the safe that stored the club's money. It was locked for the longest time, and I think there was a half-eaten dinner from who knows how long ago, an oyster or clam dish. They have some of the best guides. So it's not the Met. But it gets down to the story. —Corey William Schneider, CEO and founder of New York Adventure Club
The Library of the Oldest Psychoanalytic Society in the U.S. …
At the Abraham A. Brill Library of the New York Psychoanalytic Society, they still have wooden card catalogues. Reading over the labels on the drawers produces a weird, free-associative poetry that feels pulled from the depths of the collective unconscious: FATHERS TO FEVER, VACATION TO VULVECTOMY, DEPRIVATION TO DIARRHEA. There's also an entire drawer on phobias (and counterphobias).
… And Hopper's "Hidden" Studio
In 1947, New York University tried to evict Edward Hopper from his studio on Washington Square Park. They failed. Hidden on the fourth floor of NYU's School of Social Work, it still stands. There's no guard, and it's often unlocked. It's just there, surprisingly, like an extra room in a dream. It holds the painter's easel, where Nighthawks was likely made, along with a potbellied stove and a bucket of coal. Pouring through the windows is the buttery glow of Hopper light, and when you stand inside, you can imagine yourself in one of those paintings. —Jeremiah Moss, author of Vanishing New York
Between the Ladies and Gents at the Marine Air Terminal
The Marine air Terminal at La Guardia is right out of 1939. You can almost see Bogey smoking a cig waiting for Bacall under that model jet. You can feel the lift in the brassy, bossy Art Deco mural called Flight that wraps around the waiting area. I've since become an expert on all this. But I knew none of it back then.
My girlfriend, Sami, and I were staying at the Chambers Hotel in midtown. The ring was in the box, the box was in a shoe, the shoe was in the bag, the bag was in the safe, in our room. But we were checking out and spending the day strolling, and I'm no stunat': I wasn't going to walk around with it in my pocket. I decided to check the bag with the ring at the front desk. "Yes, Mr. Reali. Whatever you need, Mr. Reali. Take this ticket, Mr. Reali."
We spent the day dancing and drinking at the Dominican Day parade. Good party. I asked the cab to swing by the hotel on the way back, then had Sami stay in while I jumped out. "Good to see you, Mr. Reali. How was the parade, Mr. Reali?"
"Lovely. Can you please take my ticket?"
Now, we all know what's written on every ticket. not responsible for lost items. But few of us understand what that means. It means: They. Are. Not. Responsible. For. Lost. Items.
The manager cheerfully opened up the safe behind the counter. The safe was empty. She then merrily told me she'd go to the backup safe. (Why do you need a backup safe? Isn't a safe supposed to be safe enough?) It was of course empty too, and now the manager is befuddled. I'm nauseous. I pull her to the side and tell her what's up. We both start crying.
About this time Sami came skipping in. "What are you doing, the cab's meter is running! It's like 50 bucks!"
My nausea has turned into airport-sushi-level food poisoning, and I'm soon out on 56th Street trying to get air, say a Rosary. I can't tell Sami why I'm so sick. The ring was, ahem, not yet insured.
The year was 2007, but the porter was central-casting New York porter circa 1979: a portly, pleated paesano with a walrus mustache. I remember those whiskers flapping in the breeze as he ramped it up to a two-miles-per-hour dead sprint out onto the street. "We've located the bag! It's at La Guardia!"
Two couples had checked out minutes before we got back to the hotel and were mistakenly given all the bags in the safe. One realized they had an extra bag when they got to curbside check-in.
When we got to the airport, the very lovely couple (from Iowa) was still standing curbside. When I saw them holding our bag, I took my first breath. When they introduced themselves, I'd like to say I shook hands like an adult human, but I think I just pushed the pair of them to the ground.
I went straight for the bag. I ripped it open and saw the shoe. Breath. I ripped open the shoe and saw the box. Oxygen is good! I ripped open the box and saw the ring and pulled Sami in-between the men's and women's bathrooms and proposed right there.
There was a janitor buffing the floor next to us. He looked at me with a face that said, "You thought this was romantic?!" —Tony Reali, ESPN host
The Auction House As Pop-Up Museum
Artworks spring forth before being sold and returned to sequestration. I stood inches from Hopper's Chop Suey and Hockney's Portrait of an Artist. They both sold for more than $90 million, but for a few days, the possibility existed that they could be mine. —Harvey Fierstein, actor
Isadora Duncan danced here, and so did Okwui Okpokwasili, and all of us learned poetry. It's burned to the ground several times, but the place is the space — catty-corner on Second Avenue and 10th — and it reeks of what I love about New York. Speech, devastation, opportunity. —Eileen Myles, poet
Park Avenue, No. 1: The Pepsi-Co Building by SOM
It never fails to give me chill bumps. It's way better than the Lever Building down the road. There is not a bit of fat in the building, and its windows are perfectly proportioned. To me, it reflects peak modernism, peak power, peak New York. —Charles Renfro, architect
Park Avenue, No. 2: The Plaza in Front of the Seagram Building
A sea of elegant, perfectly proportioned space carved out of a city of chaos. —Peter Marino, architect
My Post Office
—Peter Arkle, illustrator
Ode to My Kitchen
And in the morning, there is the light, threading itself among oak, maple, and cherry blossom. This light. This room. Those trees. This continuum of light and life in a room that holds this city at a distance. Gifting it to me gently, a whole world framed in glass. Backs of buildings. Gardens. Birds. Squirrels. Dogs. Sometimes, even here in Brooklyn, a raccoon. Morning light ebbing into bright afternoon, then dusk. Then night.
But what about last night?
And now I've returned here, with the shades drawn against the dark. I write about what happened as I walked the dogs: A cop car slowing just feet away from me. The dogs' noses pressing toward the pavement scent of animals who had come before. The dogs hidden. So then, who was I — tall and dark and hooded and Black in Park Slope? The glare of the cop riding scrubside silently asked this question of me. After all, how dare I walk these streets at dusk? My own glare back, a command to the dogs. And then they're visible.
And then the cops moved on.
And me thinking, just that quickly,
Each day in New York, I go a dozen times between Jacqueline Woodson
and a threat to this city.
This kitchen is my favorite place here. Island. Outlet. Window. Stove. Family moving through. Then home again. The hours in-between when the words come — or don't. Coffee made. Dinner planned. A book. An interview. The cop car slowing twisting into narrative. Then almost gone.
And I sit here. Writing.
"And"… a continuum. "And"… a going on of. "And"… something more is coming.
Fingers wrapped around my pen, I wait for it. Wait for it. —Jacqueline Woodson, novelist and poet
A Times Square Wormhole
I live and work near Times Square, the most crowded place in the country. I love knowing all the alleyways and pass-throughs that get me from one end of the Theater District to the other faster than an intergalactic wormhole. —Todd Haimes, artistic director, Roundabout Theatre Company
1. Anita's Way (alley by the Sondheim between 42nd and 43rd).
2. Parking-garage passage from 43rd to 44th.
3. Cut through the Millennium Broadway hotel to 45th.
4. Slight jog left to public right-of-way through 1540 Broadway (takes you to 46th).
5. Secret alleyway near the Pels to 47th.
6. Cut through behind 1211 Sixth Avenue to 48th.
7. Mini-Plexiglas water tunnel and garden cut-through to 49th.
8. Garden cut-through between 49th and 50th.
Where Christopher Columbus Met a North Korean Envoy
My CNN office in the Time Warner Center at Columbus Circle had a massive window overlooking the statue of Christopher Columbus. Staring out of it was very peaceful, but one day the North Korean envoy to the United Nations was visiting and he suddenly said: "Ah yes, Christopher Columbus, that's the official point that measures a 25-mile radius from New York City beyond which we cannot travel because we are on the State Department list of state sponsors of terrorism." —Christiane Amanpour
The Ghost of 18th Street
Whenever I'm on a 4-5-6 train headed north from Union Square, I wipe the window clean(ish) and press in close. A few seconds later, a couple of mosaics flicker by, just barely visible: 18th street. It's one of the original stations on the IRT, built in 1904, closed in 1948, after the Union Square platform was extended northward to 16th. Nobody's been down there since, apart from MTA workers and the odd urban spelunker (and, I guess, the rats). It feels like my secret, even though anyone can see it, any day. —Christopher Bonanos, New York's city editor
Bird (and Redcoat) Watching
In Prospect Park at the base of Lookout Hill there's a monument that commemorates the valiant stand, in 1776, of the Maryland 400. They delayed an overwhelming British advance, allowing the Americans, led by Washington, to retreat, saving the Army. Up the hill, in winter, it's possible to see Coney Island. But it really comes to life in April and May, when thousands of migrating birds adorn every tree and bush: sparrows, tanagers, flycatchers, hummingbirds. You can see 100 species in one day. —Tom Stephenson, Brooklyn Bird Club board member
Ali Baba and Henry James in Greenpoint
Like not a few writers I know, I tend to have a fight-or-flight response to bookstores, with their piles of new releases; which makes it all the more peculiar that High Valley Books is where I go to free myself from care. The name is more than a little misleading, since its dusty treasures are housed in a cellar with a low ceiling and a floor covered in Persian cushions, like the couches in an opium den. Admission is by appointment: There's no trace on the street of the Ali Baba's cave within. William Hall, the proprietor — who may or may not be a relative of Henry James, depending on when, and how nicely, you ask — seems as much a character out of an ever-so-slightly indecent Victorian novel as an actual human being, and the beautiful books he recommends give the magical impression, rightly or wrongly, of being available no other place on Earth. —John Wray, novelist
The Ping-Pong Tables at Bryant Park
I write in the public library, and when I come out for air I like to watch the dudes get into fierce games. I never play because (1) I'm not that good, and (2) I have traumatic childhood memories associated with the game. But sometimes I sit and watch and dream and cry. —Sam Lipsyte, novelist
Balthazar's Dispensary
In the winter, I sometimes go blocks out of my way so I can stop by the little shop attached to Balthazar. A friend brought me there years ago for hot ginger tea in a to-go cup. The warmth flows through me as I continue on my way. —Claudia Rankine, poet
The closest thing I have to a temple. I did a lot of my own wrestling with feelings about gender in there, watching Mx. Justin Vivian Bond manifest rage and radiance that will stay with me forever. —Olivia Laing, author of Lonely Cities and Crudo
Paley Park on East 53rd
The unexpected surprise of walking on a crowded street and suddenly coming upon a waterfall. —Gloria Vanderbilt
Not often you find a great sushi spot that also plays fantastic hip-hop. —LeBron James
The Street That Is a Skater's Highway
I start the day hanging out at Labor Skateboard shop and end it at Tompkins Square Park, the best flat-ground spot in New York. Essex is a smooth ride between — just pushing in and out of cars, you can go from the Lower East Side to East Village in seven minutes. —Beatrice Domond, pro skateboarder
The Temporary Roost of That Duck
One of my favorite spots is the pond in Central Park, near 60th Street. Not just because it's become the part-time home of the Mandarin duck, but because it's the place in Central Park that perhaps best embodies the genius of its creators Frederick Law Olmsted and Calvert Vaux — the place where you can literally see the intersection of the pastoral beauty of the park with the shining spires of Gotham, the place where nature meets the city. —Michiko Kakutani, writer and critic
"There's Not One Douche in Here Right Now"
I mentioned Clandestino in my last novel. I used to take all my first dates here. The only place where there's a "Norm!" feeling when I walk in. It's on the LES, which is now ground zero for private equity. But it's still a normal place. I used to live around the corner in the Jewish projects. Now I walk from our apartment in Gramercy. It's my exercise. —Gary Shteyngart, novelist
My favorite place is onstage at the David H. Koch Theater, preparing for one of our performances of George Balanchine's The Nutcracker. From making sure everything is in place for the onstage blizzard to perfecting each ornament on the 40-foot Christmas tree, there's so much that goes into making sure the show runs smoothly. It's classic, traditional stagecraft with nothing overly mechanical. There's a great sense of pride when the tree grows and the scenery moves into place, all on cue and with the music, and the audience applauds." —Marquerite Mehler, director of production, New York City Ballet
Columbus Circle Subway Station
Favorite place: It's my home subway station, so there's a familiarity with every staircase and exit. I love that Whole Foods and Central Park — my second and third favorite places in the city — are right outside and that from there you can access so many different neighborhoods in a matter of minutes … as long as the trains are on time. —Jamie Stelter, NY1 anchor
This is where I go when I need the sensation of water, which is often. In winter, this is where we have pulled our children along on sleds, rushing alongside the water. In summer, this is where we walk to escape the heat, watching our children climb on a big metal globe where the promenade ends. And this is where a young magician once took me after he disappeared my ring and made it reappear into said metal globe. This is where all New Yorkers go to find the city's edges, to look at the sun going down behind the Statue of Liberty. This is where the ghosts of Walt Whitman, W. H. Auden, Carson McCullers, Truman Capote, and W.E.B. Du Bois still linger. And this is where they are planning to build a highway. —Sarah Ruhl, playwright, essayist
The Bridle Path in Central Park
I kind of consider Central Park my backyard, and the Bridle Path is my favorite place to run. It's beautiful from a scenery standpoint, and it's a rare morning when I don't see someone I know. Oftentimes I pick up a running buddy along the way. —Michael Capiraso, president of New York Road Runners
A Bench Atop Sunset Park
A decade ago, I taught English at P.S. 169 in Sunset Park to a group of incredible women from the state of Puebla in Mexico. Our classroom was across the street from the actual park, where families play soccer and older women practice guang chang wu, a kind of square dancing. I spent many winter evenings with my students eating after-class meals of tripe tacos from El Bronco or spicy pork bánh mì sandwiches from Ba Xuyên, watching the sun go down over the Statue of Liberty. —Heidi Schreck, playwright
The Endangered Garden on Elizabeth Street
When I first got hired at HQ in the summer of 2017, I moved into an absurdly expensive fifth-floor walk-up "economy" in Nolita to be closer to the studio. The silver lining to that apartment — besides being able to scramble eggs from the toilet — was discovering this quirky urban oasis across the street. It's the perfect place for an impromptu picnic, eating in the shade of the many sculptures and trees planted by the neighboring gallery owner in the early '90s and today tended by a nonprofit. Sadly, like so many of this city's gems, the garden is being threatened by development, and its destruction may be imminent. So be sure to stop by before the bulldozers beat you to it. —Scott Rogowsky, comedian and HQ host
My Favorite Place in New York?
All the time, any time? I'm particularly fond of Rockefeller Center. See how well trained I am? … Yeah, Riverside Park. —Tina Fey
Battery Park
Witness to my: First walk in public as openly gay. First bike ride with my son. First sunset in New York with my first New York friend, 33 years ago. —Jenna Lyons, designer
La Grenouille
I love sitting in that room surrounded by the beautiful flowers, in the golden light. It feels like a part of New York from a past era that I'm so happy still exists! —Sofia Coppola
Corner of 57th and Fifth
I worked at a boutique called Lothar's. I learned about big city life; I met remarkable people; and I sold my very first collection to Bergdorf Goodman. That corner has been very good to me. And Bill Cunningham was there to capture the magic of that corner for me and so many other people. —Michael Kors
Onstage at Carnegie Hall's Isaac Stern Auditorium
I've performed there a few times, but the time I'm thinking of was in 1985. I did a 20th-anniversary retrospective and premiered a piece called Book of Days. The piece started with me singing some a cappella solo pieces called Songs From the Hill. Just one little person yelling into the microphone. And I remember feeling the sense of all the people who had performed there, including my grandfather. It was a feeling that was slightly overwhelming. During the performance, I felt very connected to the audience, and yet I could feel my voice traveling through space. The hall felt like it was helping my voice travel. —Meredith Monk, composer-choreographer
The Ghost of 91st Street
I'm really fascinated with the subway stops that are no longer in use. Like the 91st Street stop on the 1/2/3. You just see a platform, the outline of where the station used to be, and there's graffiti all over it. The graffiti changes constantly. That's one of the things about New York — you're so often confronted by a world that is completely alien to you, that you feel like you have no access to, but it's right next to you. —Camille Rankine, poet
Clock Tower at St. Teresa's Church on Henry Street
Once a week I go across the street from where I live into St. Teresa's Church and open the door to the tower. I make my way up this dark, dusty, rickety staircase into a room. It's really distinguished by each of the four walls being the back of a clock face. In the middle of that room is the clock mechanism itself. I go in and wind it once a week. I keep it within five to eight minutes, usually. The clock hands are wood, and they've been attached to the clock for over 100 years. Over time, the hands have loosened a little bit, and they'll sometimes flop. I've tightened them up, but you have to lean out this little hatch window to do any work on it.
I'm pretty much the only person who climbs that tower. What I like about it is it has all the significance in the world but it has a humility about it because it's sort of secret. —Bill Dilworth, caretaker of The New York Earth Room
The Treasury at the Cloisters
I have favorite pieces at the Cloisters that I think of as old friends. The Unicorn Tapestries are hard not to love, but down in the treasury there are these rosary beads carved out of a single piece of wood that are maybe an inch or an inch and a half in circumference. And in that little rosary, there'll be something like 40 figures of Calvary that some monk spent 30 years carving with a pin and couldn't make one mistake. It's amazing. And then I want to go read the name of the rosary; I want to understand what these people were thinking in the world before the Enlightenment. It's wild, because here we are in New York, the quintessential 21st-century city and — you should look this up — and you can visit 11th-century cloisters.  —Tony Marx, president of the New York Public Library
Lincoln Center Reflection Pool
My favorite place is the little sand-and-tree alley by the reflection pool at Lincoln Center behind the Beaumont. I could sit there all day — it's like a little bit of Paris and the Tuileries. Magic realized. —Sarah Paulson, actress and director
Café Loup
I've been going to Café Loup since 1991, which I think of now as the Mos Eisley cantina of New York City's writing-and-publishing set, where the menu is mostly unchanged and the martinis are still served in their shakers, left behind for the extra pour (which feels like a tip from, not to, the bartender), and the white tablecloths and napkins shine in the lamplight beneath the strange masks in vitrines in the corner — who knows when they were ever worn? As long as it is open, I will go there. —Alexander Chee, author
A Table for Four at Le Zie
We occupy the same table every Thursday for dinner. The owner, Claudio, is the most delightful man, and the food is first-rate. —Milton Glaser, graphic designer
The Brass Rail Bar in Sheepshead Bay
A low-maintenance dive on Avenue Z. Three-dollar pints and Styrofoam bowls that the bartenders infinitely refill with pretzels. I love biking the Rockaways in September, when the beaches have been deserted but the weather still holds, and then going there. —Sara Holdren, theater critic
The Baseball Fields on the Water, Near FDR Drive. Fields 5 and 6.
Those are the fields I grew up on. I probably played there at least four, five games a week. I always went to practice with my older brothers. They'd offer me little gifts if I'd just practice a little harder. —Dellin Betances, Yankees pitcher
The Second Floor of Zabar's
Whenever I'm feeling bad, I go there. For vacuum cleaners, toaster ovens, knives, and don't ask me how many citrus squeezers. For the past 30 years, the same guy helps me — he doesn't know my name, but he remembers every single thing I've ever bought. —Alicia Glen, deputy mayor
Under the Seats at SNL
I waited there when I was "on deck" for my SNL audition, and I like to walk through to remember that feeling. —Aidy Bryant
Ellis Island
My grandfather arrived in 1914. He became a pioneer of the Greek Orthodox Church as one of the first 100 ordained priests in America. —Ernie Anastos, anchor
The way people look when they've just seen art — I'm happy to just sit and stare at everybody. —Maira Kalman, writer-illustrator
The Bench in Washington Square Park Where She Fell in Love
I moved to New York in 1992 from a rural part of Northern California, and I was instantly pulled into the parks because I missed peaceful, green spaces. The first year I lived here, on the first warm day in spring, my roommate and I took the train down to Washington Square Park. It felt like everyone was coming out of hibernation, exposing their bodies and faces to the sun. There was music playing — it was like an accidental party. Years later, I went on my first date with my now-husband in Washington Square Park. We sat in the same spot where I had sat with my roommate, on one of those stone benches on the south side of the park, facing the arch. We talked for hours, and I was really aware of all the couples who'd fallen in love in that park before me. —Rebekah Burgess, New York City Parks Department photo archivist
The "Time Warp" That Is Arthur Avenue
Many if not most people [in the neighborhood] still speak Italian, even if they're from Albania. The food is terrific — as evidenced by the fire engines outside the indoor market. Mulberry Street is really just a concentration of restaurants; the residents left decades ago. Italians are also leaving Arthur Avenue for the suburbs, but enough have remained — and enough visit to buy vegetables and the like — that it still has [its] character. —Kenneth Jackson, historian
Where There Are Wild Cats, and Always Something Growing
The Heather Garden is a small year-round botanical garden in Fort Tryon Park, on the way to the Cloisters. It reminds me of my entry to the city, which was softened a bit by this place. I've been here 20 years, but I'm from Reno, Nevada, and when I first moved to New York, I lived on 181st Street. The Heather Garden was on my running route. It overlooks the Hudson, and at every time of year there's always something blooming or growing. There's a real ecology. And a whole colony of feral cats! And hawks and stuff. I remember running alongside a city bus and also being aware of an incredible big bird nearby. And the wind off the river is always present. —Johanna Burton, curator, New Museum
*A version of this article appears in the December 10, 2018, issue of New York Magazine. Subscribe Now!