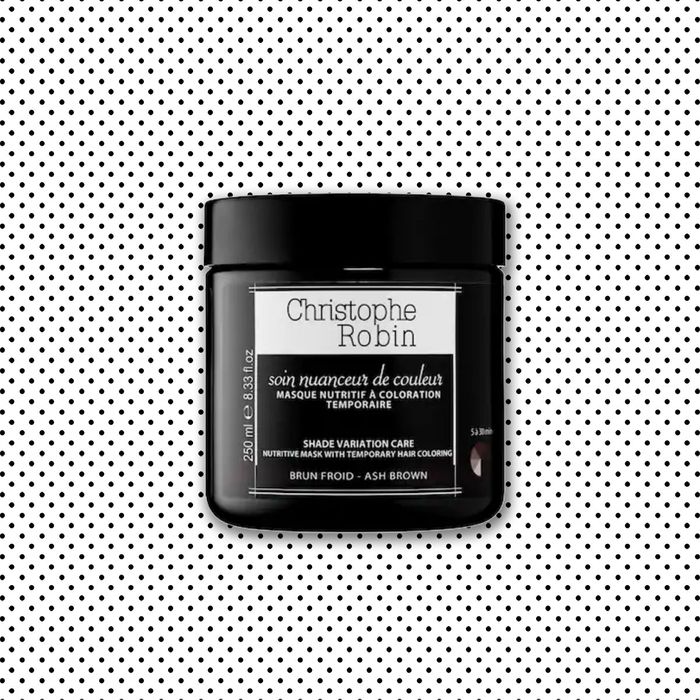 Photo: Courtesy of Christophe Robin
I have very dark brown, almost-black hair which I lighten through highlights so I don't look like a crow. Unfortunately, it becomes brassy and orange as soon as I step more than 15 feet from my colorist's chair. I try to do right by it — I use the appropriate sulfate-free shampoos and conditioners, and love it with Olaplex. But I'm very lazy about booking regular gloss touch-ups with my colorist. Sitting and waiting in a chair for my hair to process feels like the beauty equivalent of watching paint dry. Plus, the Wi-Fi and tower service at the salon is very spotty.
Then I found this mask from French hair colorist Christophe Robin. It's funny: If you were Catherine Deneuve's colorist of choice for decades, would you invent a product that would cause her to see you less? No, right? Why would you want to see less of France's national treasure? But that's exactly what he has done, to the chagrin of colorists everywhere.
This mask is a weapon against brassiness. Whenever my hair is getting dangerously close to hazard orange, I slather it all over towel-dried hair, watch half of an episode of The Great British Baking Show, and then wash it out. When it dries, the brassiness is neutralized and my hair looks blissfully brown once again. I would buy this over and over based on its anti-Day-Glo orange powers alone, but it makes my hair feel soft and look silky, too.
I always use the Ash Brown color because I went for cooler brunette tones for winter. But there are also options for warm brunette, cool and warm blondes, and redheads. Unfortunately, the mask doesn't work very well against grays and it won't deposit color on non-colored hair. But if you dye your hair, it's a solid. I use it once every few months to prevent embarrassing my colorist with my laziness.
If you buy something through our links, New York may earn an affiliate commission.