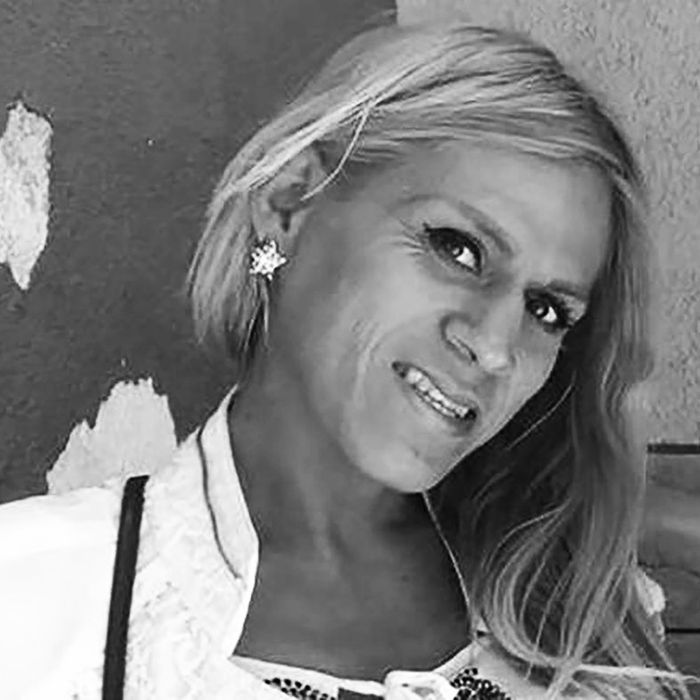 Roxana Hernández.
Photo: Transgender Law Center/Facebook
In May, a transgender woman named Roxana Hernández, 33, died in Immigration and Customs Enforcement's custody, after she traveled to the United States to seek asylum. Upon her initial arrival in the U.S. she was not considered for asylum, despite the high rates of violence against transgender people in Honduras; instead, she was scheduled to be deported. It was during this process that she became seriously ill and died.
The circumstances of her death remain shrouded in mystery. ICE reported that Hernández died of a heart attack after suffering "with symptoms of pneumonia, dehydration, and complications associated with HIV" in New Mexico on May 25. However, an investigation from the Transgender Law Center contradicted that report — and claimed that before her death, Hernández was subjected to abuse, including beatings.
And now, Senators Kamala D. Harris (D-CA), Tom Udall (D-NM), and Martin Heinrich (D-NM) are seeking answers. On Monday, they sent a letter to Ronald D. Vitiello, the acting director of ICE, and Kevin K. McAleenan, the commissioner of U.S. Customs and Border Protection, demanding that they release a detailed report about Hernández's death. Much is still unclear; here is what we know so far.
An independent autopsy report from the Transgender Law Center contradicts ICE's report.
In the letter from the Senators, they outlined that an independent investigation and autopsy from the Transgender Law Center showed that Hernádez's death was "preventable." Their report suggested that severe complications of dehydration on top of an HIV infection cause Hernández's death. The report also showed that before she died, she was beaten by "a baton or similar object while she was restrained by handcuffs."
"Reports suggest that while she was held at the San Ysidro Port of Entry, Ms. Hernández endured freezing temperatures and was denied adequate food, water, and medical care," stated the letter from the Senators. "During her transport between facilities by ICE, she vomited to the extent other detainees begged authorities to provide her with water and proper medical care."
Advocates from multiple organizations claim that her health issues were caused by treatment that could be considered torture. After Hernández entered the U.S. on May 9 as part of a migrant caravan in San Ysidro, California, she was detained and held for two weeks before her deportation proceedings began.
"She was processed and held for five days in the dreaded 'icebox' — holding cells with extremely low temperatures — in U.S. Customs and Border Protection suffering cold, lack of adequate food or medical care, with the lights on 24 hours a day, under lock and key," read the joint statement from the organizations Diversidad Sin Fronteras, Al Otro Lado, and Pueblo Sin Fronteras. "During her first week in the United States Roxy's body and spirit quickly deteriorated."
ICE hasn't commented on the reports of abuse, but listed Hernández's cause of death as "cardiac arrest."
In a statement released by the agency on May 25, ICE gave its account of Hernández's death — which was the sixth reported death of a detainee in ICE's custody in the fiscal year. "On May 17, Hernandez was admitted to Cibola General Hospital with symptoms of pneumonia, dehydration and complications associated with HIV," read the statement. "Later in the day she was transferred via air ambulance to LMC, where she remained in the intensive care unit until her passing."
ICE has a terrible track record with trans detainees, according to reports from advocates.
"Paired with the abuse we know transgender people regularly suffer in ICE detention, the death of Ms. Hernández sends the message that transgender people are disposable and do not deserve dignity, safety, or even life," said Isa Noyola, deputy director at Transgender Law Center.
The organization's Trans Immigrant Defense Effort works to provide emergency legal services for transgender people who are detained by immigration authorities because "ICE has shown time and again it is incapable of protecting transgender women in detention."
Now, Senators are asking for a full report.
The three Senators who sent the letter to ICE and CBP are demanding that ICE "immediately release a full and complete death review and supporting documentation on Roxana Hernández to the public," which is already required by Congress.
"Congress requires ICE to publish an initial report, for public release, on each in-custody death for within 30 days and similarly for a final report within 60 days," continued the letter from the Senators. "It has been over 180 days since Ms. Hernández was pronounced dead and no such report has been publicly released. ICE's failure to release this report diminishes the systemic, traumatic, and in this case fatal, violence that transgender individuals experience daily as a result of their gender identity."
In addition to specific actions regarding the death of Roxana Hernández, the lawmakers also asked that "ICE and CBP each provide us with complete accounting and documentation of the specific training that their officers, agents, and contractors receive related to the processing, medical evaluation and care, and safety of transgender individuals in custody."