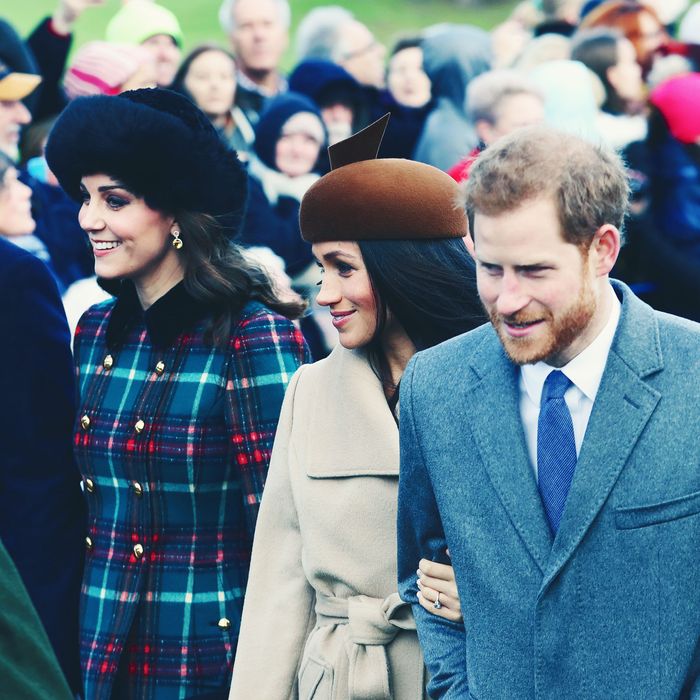 The "Fab Four" last Christmas.
Photo: Chris Jackson/Getty Images
The holiday season is finally upon us: a time for family, presents, and of course, frantically refreshing photo agency websites for pictures of the British royal family stepping out at Queen Elizabeth's Sandringham Estate on Christmas day. But given the nonstop royal drama lately, will Prince William, Kate Middleton, Prince Harry, and Meghan Markle even spend the holidays together? Apparently … yes. Phew.
This past month has seen an onslaught of dramatic stories in the British tabloids about the royals. There are rumors that Prince Harry and Meghan Markle are moving out of Kensington Palace because of his supposed "tension" with Prince William. There have also been a ton of negative stories about Meghan, including reports of a feud with Kate Middleton (and complaints that she works too hard, which … ). Where these stories come from — and why — is up for debate, but the gist is that there's drama, whether it's really as bad as it seems or is just being sensationalized by the press.
The latest round of tabloid drama comes via a weekend report by the Daily Mail about Prince Harry's staff hunting for the "mole" who keeps leaking the stories (to, erm, places like the Daily Mail …) and the claim that the two couples have decided to spend the holidays apart (after celebrating Christmas together last year). But as Celebitchy points out, that would actually make sense: Prince William and Kate usually switch between royal celebrations and spending the holidays with the Middletons every other year. That means 2018 should, in theory, be a Middleton holiday year.
The story doesn't end there, though! Now it's being reported that actually, nope, the two couples are spending the holidays with the queen after all. A source even told the Daily Mail (in a follow-up story), "Reports regarding Christmas are wrong. Everyone is in Norfolk this year." Tom Sykes at the Daily Beast notes that it's "unusual" for royals to confirm their holiday plans with the press ahead of time — and that doing so shows the palace is possibly trying to push back on reports of "tension."
So what's the big takeaway here? The royals will be spending the holidays together — and it seems we should expect further attempts by the palace to dispel the nonstop tabloid stories.