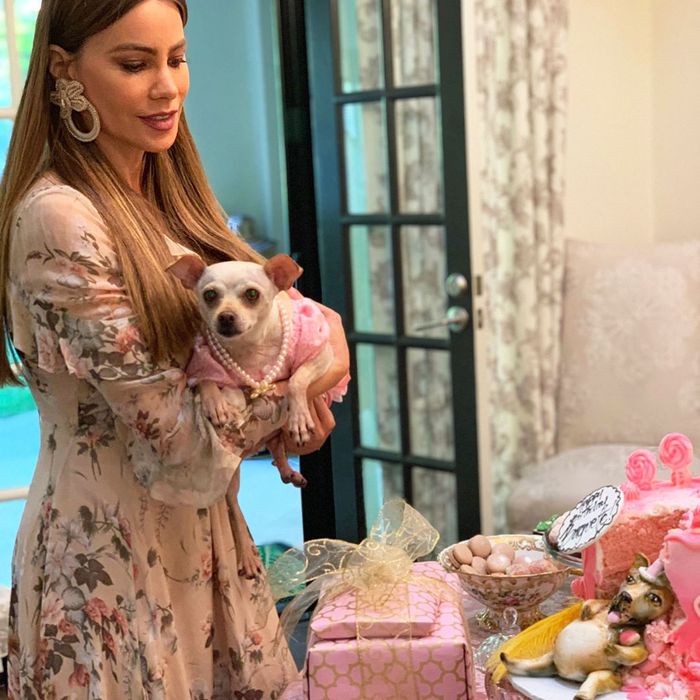 Sofía Vergara and Baguette.
Photo: @baguettegonzalez/Instagram
Not a single episode of My Super Sweet Sixteen could hold a candle to the lavish birthday fête Sofía Vergara threw this weekend. The guest of honor was awoken by money gun, fed an elaborate layer cake, and gifted multiple presents bigger than she. Happy 5th birthday to Baguette, who is a dog.
Vergara is never one to miss an opportunity to celebrate a birthday, including that of her 26-year-old son Manolo Gonzalez Vergara's dog, who is one fancy little Sagittarius. The day, which Baguette documented on her Instagram, appears to have started the moment she woke up in her human bed, where someone showered the chihuahua with at least $5,000 in one-hundred-dollar bills via money gun, as one does on your birthday.
Before her guests arrived, Baguette changed into a floral dress that was a flattering shade of light pink — which matched the party's table cloth, gift wrapping, and incredibly elaborate layer cake bearing a cursed sculpture of Baguette.
"Five is the new three, bitches!" reads the caption on her Instagram slideshow. "Happy Birthday to me! #ThisIsHowYouAge #CherHasNothingOnMe."
Manolo also recorded the day on his Instagram Story, where he posted photos of his "#FavoriteBitch" (okay) eating a pupcake on her "cheat day" and posing next to her new food bowl, emoji pillow, holiday gift set, and more. And, as one often does on their birthday, Baguette appears to have partied a little too hard, at which Manolo hinted on his Instagram Story on Monday.
"Naked and hungover: A memoir," he wrote next to a photo of Baguette getting some fresh air in the morning.
I mean no offense, but I do like this bitch's life.