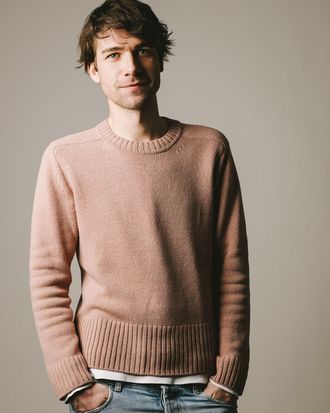 Sander Lak.
Photo: Courtesy of Sies Marjan
You know how you feel when you see a golden retriever video on Twitter? That's sort of like how it feels to see one of Sander Lak's collections for Sies Marjan in the middle of New York Fashion Week. Lak has no interest in being dark or dour. He loves splashy displays of color and modern silhouettes, and his work is equal part sophisticated and playful. Below, he talks to the Cut about vacations, Bravo TV shows, and his own "big stupid Dutch feet."
How do you thank someone for a gift?
I wish I was better at this to be honest. I love giving people gifts but I don't have a special way of thanking people for gifting me. I say "thank you" and might send a card but also might not … Maybe I should start thinking more about this!
What would you never wear?
Never say never!
What's your dream vacation?
Right now I just want any vacation — just any place I can read and sleep and sit and relax. That sounds like a dream! I guess I became easy about this since starting Sies Marjan. Any vacation will do.
What's a good book on you're reading right now?
Hit So Hard by Patty Schemel and History of Violence by Eduard Louis but I actually don't like that one so much.
Favorite piece of furniture in your apartment?
There is not a single thing I don't like, so it's hard to pick a favorite. I'm so specific with furniture that nothing comes into the space I am not absolutely in love with.
Last show you binge-watched?
So many. I am a professional binge watcher. The last shows I watched obsessively (I do a few shows at the same time) were Floribama Shore and Jersey Shore, Real Housewives of New York, The Night of the Looming Tower, The Good Place, Neo Yokio, The Royle Family, Succession, and Lady Dynamite.
What is a trend that you like right now?
I don't really know what trends are these days. There is too much of everything to pinpoint a trend anymore, I think. We are all in our own "control group." It's like how Netflix creates all these super-specific groups of viewers who all see what they want, even if they don't know they want it yet. We see the trends we want to see and consume what we like.
What's a trend you don't understand?
I understand them all but don't agree with most.
Favorite museum/gallery?
It really depends on what's on display more then the actual museum. Sometimes there are great exhibitions in bad museums and bad exhibitions in good museums. I do always like going to the Studio Museum in Harlem, Zwirner in Chelsea, and the Rijksmuseum and Stedelijk in Amsterdam when I am in Holland.
What's another decade you'd like to live in and why?
I like now. I'm not very nostalgic and like to be present. I think that's healthy.
Shoes you wear most often?
I only wear sneakers. I have big stupid Dutch feet and only look good in sneakers. Hate the way normal shoes look on my feet, but love them on others.
What's your favorite…
Piece of art?
These questions are so hard to answer, I have many favorites and they also change all the time but can always rely on Neo Rauch, Franz West, Elizabeth Peyton, Taryn Simon, Thomas Ruff, Nigel Shafran, Lucy Kim, Hans Eijkelboom.
Pajamas?
The Sies Marjan velvet cord shirt and pant are perfect for a luxe pajama moment.
Color combination?
There are too many to name. It's basically what I spend most of my time on at the office, finding color combinations that work. So I feel like it's impossible to answer as I'm always into a new combination.
Candle?
I have never bought a candle in my life…
Scent?
I only wear one perfume and that's the Marc Jacobs mens he put out a long time ago. They don't run it anymore but I can still find it online. I got it as a gift when I interned there ages ago and somehow have never been interested in getting anything else. I don't even try.
Pair of jeans?
I wear the jeans I did for my graduation collection at Saint Martins a lot still, even though that was more than ten years ago. I do own some Our Legacy and Levi's.
Restaurant?
I love a diner, any of them — the more American and shitty the better. I come from a family of chefs (on an amateur level, not professionally) and have been raised eating really good food so cheap, bad food somehow excites me more.
Suitcase?
Rimowa and Prada.
Socks?
There is a store in Holland called HEMA which is kind of like that one-stop store where you can get anything you need. It's all their own brand so no other brands are available and it's super-practical and Dutch, and I only wear underwear, socks, and T-shirts from there.
T-shirt?
HEMA.
Shop the Story
If you buy something through our links, New York may earn an affiliate commission.