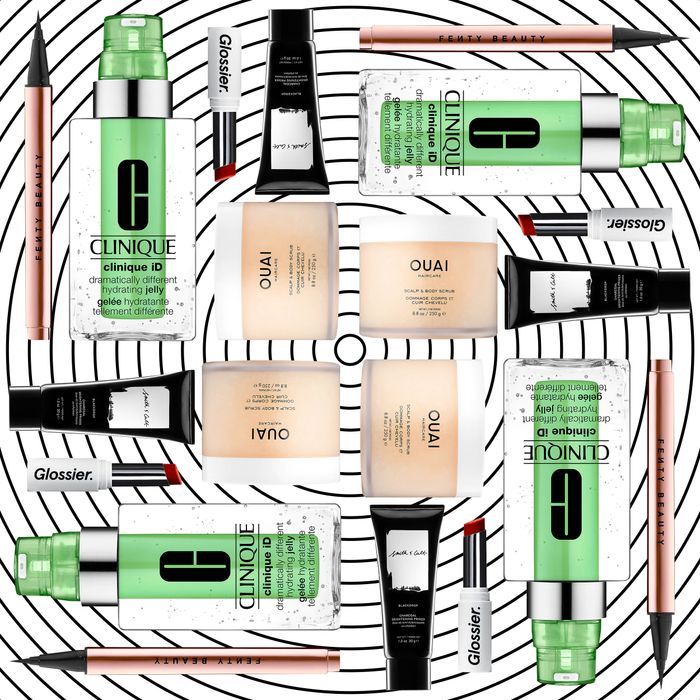 2018 has been an eventful year in the beauty world. We thought Deciem was going away, but it's not. We celebrated the state of California banning animal testing and CoverGirl going cruelty-free. We followed every Fenty Beauty and Glossier product drop. There are so many new products, trends, and procedures: Some that are truly dreamy, some that are a little weird, and some that we want to embrace but we just can't seem to find the time for in our busy, busy schedules. (Just kidding! We'll continue to double cleanse.)
It was also a great year for advances in technology and inclusivity in the beauty world. We've welcomed eye creams that are supposed to counteract blue-light damage and incense that smells like your favorite hair products. There's been an expansion of foundation shades available across a variety of different brands. Plus, we're continuing to see more high-quality, budget-friendly options for makeup and skin care. Below is a roundup of our favorite beauty products from 2018.
The Scrub That Makes You Smell Good From Head to Toe
Two-in-one products often cut corners, but this head-to-toe scrub works hard. It deep-cleans and softens from your scalp alllll the way down to your knees with sugar crystals set in a generous serving of luxurious coconut oil. And like all Jen Atkin creations, this scrub makes you and your whole bathroom smell freakishly good. —Erica Smith
The Foundation Preferred By the Duchess of Sussex
This is another one of those products that I put on and forget I'm wearing until I look in the mirror and wonder, "Why does my skin look so good?" Even though it's a full-coverage foundation, it feels super-light on the skin, almost like a tinted moisturizer. It buffs in easily, without the creamy cloying feeling of most foundations, and makes your skin look healthy and pretty much perfect. "Healthy and pretty much perfect" is also the description you might give to Meghan Markle, who wore this on her wedding day. —Kathleen Hou
The Moisturizer That Gives You Perfectly Dewy Skin
This moisturizer does a lot of heavy lifting while remaining lightweight and nongreasy. It absorbs almost instantly and makes your skin feel perfectly prepped for whatever you want to layer on next, whether it's B.B. cream, foundation, or nothing at all. It's a foolproof way to get skin that looks dewy, not greasy. There are a lot of "active cartridges" you can choose from to customize this moisturizer, but I've found that the green "irritation" option has been a consistently solid choice for minimizing redness and priming my skin. —Hayley Schueneman
The Edge Control Product That Lets You Have It All
Laying your edges truly is an art, but it's one that can quickly be mastered if you can find a multitasking styler that's up for the job. Curls' extra-strength pomade does the right amount of everything: It sculpts to keep individual hairs in place, smooths down frizz with a healthy-looking shine, nourishes fragile baby-hair with castor oil and shea butter, and dries completely clear without any residue or weird film, which is no small feat. —Erica Smith
The Lipstick That Feels Truly Weightless
I like pleasant surprises, so I love this lipstick. It feels like a lip tint but goes on the lip with a major color impact. It also lasts for many, many hours without leaving a weird ring around your lips. And best of all, you can put it on and forget you're wearing it. The red colors are really excellent but the whole color range is pretty great. —Kathleen Hou
The Liquid Eyeliner That's Incredibly User-Friendly
I was never very good at liquid eyeliner and I'm still not great at it. But I am getting better thanks to this expertly crafted eyeliner which makes it so, so, so easy to draw on lines. Each line comes out incredibly black, and I barely need to exert any pressure for the liquid to come flowing out. It doesn't smudge on my hooded eyelids, and it lasts from morning to night. Plus, I'm not the only one that agrees – almost everyone at The Cut who tried this, loved it. —Kathleen Hou
The Budget-Friendly Exfoliator That Actually Works
Harsh scrubs with small, hard particles are actually not ideal for exfoliating. Thus, we turn to the magical sloughing power of acids, specifically the alpha hydroxy acid (AHA) present in this little treat from Trader Joe's. It's a great entry point into the world of good-for-you exfoliation that only requires a $6 investment and can be picked up on your next grocery trip. It smells very good, but please, don't be tempted to eat it. —Hayley Schueneman
The Indulgent Bubble Bath That Goes a Long Way
I'm very good at a few things and among them is bath-taking. I like a really fluffy bath, like I'm in my own Kate Moss pink bubble editorial at the Ritz Paris, but I also don't want to clean my bathtub afterwards. This bubble bath from Honest is great because you need just a little bit, like a capful, to get a ton of delicious, voluminous bubbles which will make you feel like you're in Harry Potter's prefect bathroom. My particular favorite is the lavender, which is lightly scented. —Kathleen Hou
The Mattifying Primer That Magically Feels Moisturizing
This charcoal primer performs a few magic tricks: It comes out of the tube black, but goes onto your face completely clear; it instantly brightens on contact despite it starting off so dark; it gives the skin a soft, matte finish that still feels moisturized; and it has an addictive citrus-y scent, which was surprising, coming from a primer. Wear it under foundation to keep it in place throughout the day, or wear it on its own, to be perfectly honest — it's a great one-step tutorial for a natural-looking glow. —Erica Smith
The Lipstick for People Who Are Intimidated by Lipstick
I seem to be one of the few at the Cut rooting for this incredible little almost-lipstick, but I don't care! The reformulated Generation G knows exactly what it is: a no-fuss sheer matte lipstick. Erica put it best when she described it as "blush for your lips." If you are lipstick-averse but have always been slightly lipstick-curious, try this. It's as easy to apply as lip balm with a strong tint that brings your whole makeup look together without drawing too much attention to your lips. I love the ease with which I can apply all of them without a mirror. They are making me believe in lip color again, which is very exciting. —Hayley Schueneman
The Face Cream That Really Works Its Magic
I love this outrageously priced moisturizer and am only slightly ashamed to say that I don't know exactly how it works. But it is the moisturizer that has made my my skin look better than any other thing I've tried this year. After using this, my face looks soft, supple, and clear, yet de-bloated and tighter. It's subtle — it doesn't look like I got a face lift or anything — but it makes me look infinitesimally better, like I've gone several weeks with no sugar and no carbs. I used up an entire bottle, so I've experienced life pre- and post-Augustinus, and I can say with confidence that life is better with.
—Kathleen Hou
The Eyeliner That's Super Fly
I've tried a bunch of eyeliners this year but I kept coming back to this one. Its super-dark pigment, impressive staying power, amazing shade name, and juicy-yet-pointy tip are everything you could ever hope for in a liquid pen liner. Despite its triangular (and very grip-friendly) packaging, this stood out as one of the most well-rounded liners of the year. —Erica Smith
The Perfectly Pigmented Lipstick
It's not the most moisturizing lipstick, but I love how pigmented this is. One swipe and you get the purest, deepest, fullest color that, true to the name, makes your lips look velvety and rich. Plus I love that to open the lipstick, you push it in until it pops out with a satisfying click. It's the perfect luxury fidget-toy for work — until your desk neighbor starts shooting you death glares. —Kathleen Hou
If you buy something through our links, New York may earn an affiliate commission.