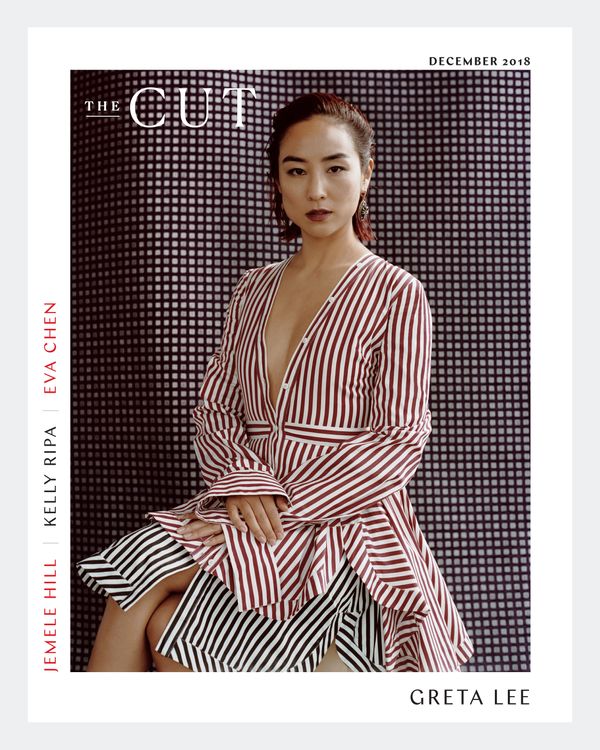 Alexander McQueen
dress, $2,650 at Alexander McQueen Madison Avenue.
Photo: Shaniqwa Jarvis
Actress Greta Lee, of Girls and High Maintenance, is the Cut's cover woman this month, wearing a striped Alexander McQueen dress in a fashion spread shot by photographer Shaniqwa Jarvis. The two played with richly textured clothing in Westlight at the top of The William Vale Hotel, where the room was bathed in natural light. "I'm always myself, and then that allows my subjects to be themselves," Jarvis said of the synergy on set.
The December cover story by staff writer Madeleine Aggeler, to be published tomorrow at 8 a.m., chronicles a big upcoming project for Lee: Together she and Jason Kim, a former Girls writer, are developing the HBO series KTown, which, if it gets picked up, will be the first cable show ever centered on Asian-Americans. "We need people to be advocates," Lee says in the story. "Viola Davis talked about this with her Emmy's speech: 'I'm only as good as the opportunities I'm given.' And that's so loaded. Because we're beholden to people, and I want to make my own opportunities."
Check back on the Cut tomorrow morning to read the story.