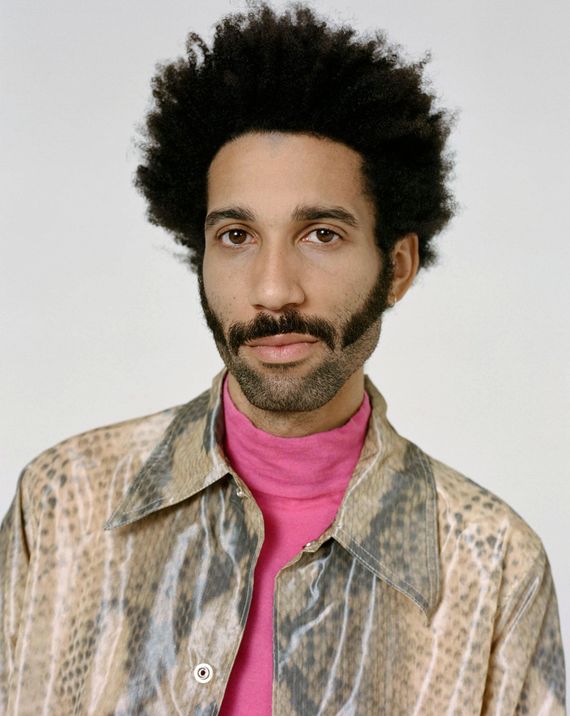 James Flemons's semi-eponymous line specializes in jeans, but it's anything but basic. Phlemuns is a genderless line of artful pieces that have caught the eyes of many tastemakers, most visibly Solange Knowles. (You can see his matching-colored sets in her "Don't Touch My Hair" video.) She found out about the brand on Instagram and fell in love. It's easy to see why — what fashion-forward person wouldn't appreciate some creatively patchworked denim? We spoke with the designer about teleportation, Michael Jackson, and Brandy.
What's your favorite holiday?
I don't think I have one.
If you could spend three months anywhere, where would it be and why?
Mexico City.
What superpower would you have and why?
Teleportation. Small-scale reason is that I always have car trouble. Large-scale reason is that I've always loved to travel.
What's the best album ever made?
I love music too much to choose one as the best ever, but Never Say Never by Brandy is very far up on my list.
What's your go-to karaoke song?
"Off the Wall" by Michael Jackson.
Who do you think is cool?
Most likely anyone ever called a nerd, a dork, or a weirdo.
What fictional character would you love to hang out with?
PaRappa the Rapper.
If you could be a magazine, what magazine would you be?
Vibe magazine.
If you could speak to animals, which animals would you want to talk to?
Dogs, cows, lemurs, and jellyfish.
Jeans or sweats?
Jeans.
What's something your social-media followers don't know about you?
I can be extremely quiet and introverted.
What was the last website you looked at?
Google Images.
If you could be outfitted by one designer for the rest of your life, who would it be?
I guess myself, lol.
What do you eat for breakfast?
Eggs and bacon, or oatmeal
If you could only eat three things for the rest of your life, what would they be?
Mulitas, bananas, almonds.
If you were a color, what would it be?
A specific shade of pea green.
James wears a Hermès turtleneck and a Phlemuns jacket and pants.