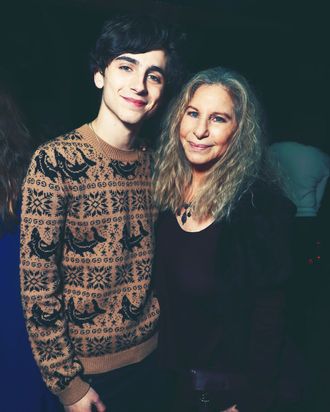 Photo: Todd Williamson/January Images/Rex/Shutterstock
Let me be up-front: I am not someone who regularly experiences FOMO. Call it blind ego, but missing out has never been a fear or mine. No party has ever been enough reason to make me feel like I should be out and about instead of being in my apartment, adhering to my very strict 10 p.m. bedtime.
However, there's a first time for everything. In my case, this is thanks to none other than Barbra Streisand.
Last night, Streisand posted a photo of herself with Timothée Chalamet on Instagram — him in a festive sweater with sharks on it, and her in what looks like a fuzzy hooded cape — with the caption, "Was so nice meeting @tchalamet at the @amazon Christmas party."
It was so nice, in fact, that she (or her PR team) cross-posted the photo to her Twitter and Facebook pages, tagging Chalamet's handles on each respective platform.
A detailed investigation finds that this Amazon Christmas party took place on Saturday, December 1, in Los Angeles, and other guests in attendance included Brad Pitt, Katy Perry, and of course, Jeff Bezos himself (with no sign of Gwyneth Paltrow, whose emails Bezos is apparently ignoring).
None of this, however, answers my questions: What were Barbra and Timmy doing hanging out without me? And what did they talk about? Did they discuss Samantha, the beloved Coton du Tulear dog that Streisand had cloned into two other dogs, Miss Scarlett and Miss Violet? Is Barbra Streisand planning on getting a Timothée Chalamet–inspired haircut? I'll never know, and it'll bother me for the rest of my days.