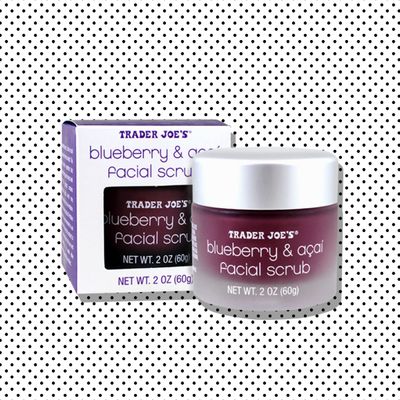 Photo: Courtesy of Trader Joe's
Between the change in weather, the stress of the holidays, and the fact that I refuse to acknowledge that picking at your acne is bad, my face is in terrible shape. Whenever my skin situation declines, I search for answers by buying a new product out of left field. Last week, I tried the viral beauty obsession that is Trader Joe's Blueberry and Acai Facial Scrub.
After Instagram account Trendmood (which has 1.2 million followers) posted about the product, I was worried it might be sold out. But I found it easily at my local Trader Joe's, I paid my $6, and you know what? This scrub is now my knight in shining antioxidant armor.
The scrub looks like a thick smoothie. It smells so good that my editor literally had to tell me not to eat it, mostly because I kept joking about eating it. The consistency is very creamy and less gritty than what I expect from a scrub. Trader Joe's explains why this product is slightly different from what you might typically associate with a scrub:
"While this scrub is exfoliating, save for a few stray blueberry seeds and its very slight general graininess, it's not really its texture that does the exfoliating — it's the alpha-hydroxy acids, or AHAs. We also include colloidal oatmeal, shea butter, meadowfoam seed oil, and various plant extracts to soothe and pamper that beautiful mug of yours."
I gently massaged it all over my face for about 30 seconds before rinsing it off and patting my skin dry. And then this is when the real magic happened: My skin, normally dry and prone to redness and acne, felt soothed. There's no other way to describe it. My face didn't feel tight in that waxy-shiny-too-clean way that it usually does after cleansing. Upon inspecting my face up close, I realized that my skin was gently flaking off, but it still somehow felt really soft and hydrated. It was a full ten minutes before my skin started to feel dry and I followed up with moisturizer.
Trader Joe's recommend using this scrub two to three times a week ( might want to do slightly less if you have sensitive skin). If you follow the recommended usage, one container would probably last you a month. So if you want to spend $6 a month on a really nice, delicious-smelling skin-care routine, this is a perfect way to go.