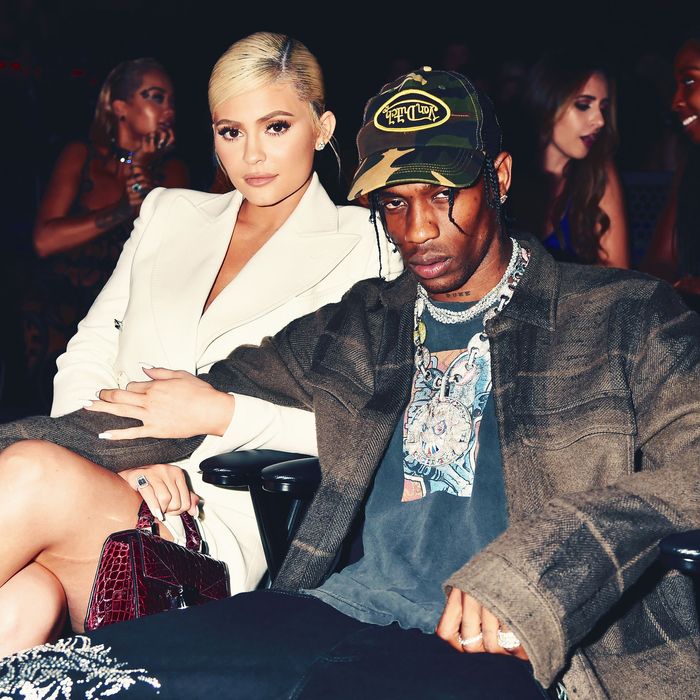 Kylie Jenner and Travis Scott.
Photo: Jeff Kravitz/FilmMagic
It's only Thursday, but this week has already been riddled with more Kardashian-related cheating rumors, this time about Travis Scott. So what's really going on?
A photo of a Travis look-alike began making rounds.
On Monday, a photo began circulating online of someone who looked suspiciously like Scott, snuggling up with someone who did not look like Kylie Jenner. Before the photo even made its way from Instagram and Twitter to tabloid pages, however, Scott himself spotted it and promptly shut down rumors that he was cheating.
"Trolls working hard today," he commented on an Instagram post of the photo. "I don't be on balcony wit no thots. That shit lame. Try again u trollssss. Me and my wifey sturdy. Back to celebrating!!! Only got love for my wife. No time to be wasting. Think again."
For the most part, people seemed to accept his denial — especially since they were immediately distracted by speculation that Jenner and Scott could be engaged, after she posted a photo of the two of them with a ring emoji.
Days later, a YouTuber copped to faking the photo.
As it turns out, that photo was a prank designed by a YouTuber named Christian Adam, who uploaded a 17-minute video on Wednesday all about how he "fooled" the internet with the fake cheating photo. For the record, he claims in the description of his video that "this video was NOT made to intentionally hurt Travis Scott, Kylie Jenner or the entire Kardashian family in ANY way shape or form."
The Kardashians became irate.
Too little, too late for "not [hurting]" the Kardashians — E! reports that in a now-deleted Instagram Story, Kylie posted a screenshot of the video, writing, "Idk if this is really a social experiment to some people but you're messing with real people, real relationships, real family. I'm happy my relationship is strong because this is getting out of hand. The internet scares me sometimes for real."
And as for the rest of the Kardashian family, Kim weighed in on Twitter, calling the prank "absolutely disgusting," while Khloé echoed her sentiments and added, "The mind games this would do to somebody … That is so completely not OK! This person should be so ashamed of themselves! What filth."
So there you have it: There's no cheating to be worried about, and Travis can now go back to trying to learn the names of Kylie's dogs.