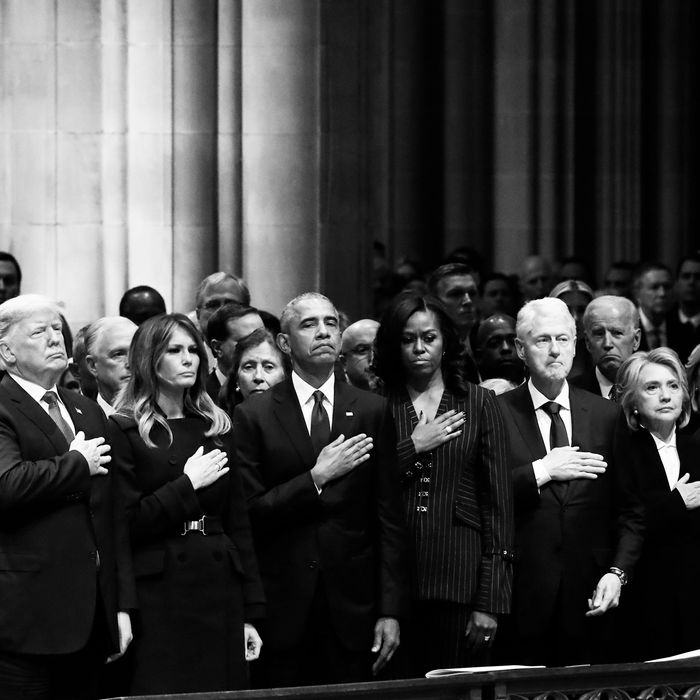 The front row at George H.W. Bush's funeral.
Photo: Alex Brandon/Bloomberg via Getty Images
The energy in the room at George H.W. Bush's funeral instantly shifted from solemn to tense as soon as President Trump walked in clutching Melania Trump's hand — and then it only got more awkward from there.
In the front row at the National Cathedral in Washington, D.C., Trump and the First Lady sat down next to a number of former presidents and First Ladies, many of whom who he has criticized more than once: Barack Obama, Michelle Obama, Bill Clinton, Hillary Clinton, Jimmy Carter, and Rosalynn Carter. Before Trump arrived, the Clintons and the Obamas were photographed laughing; when Trump shook hands with the Obamas as he took his seat, Hillary nodded at Melania but then turned her head to face the alter, seemingly refusing to acknowledge her opponent in the 2016 presidential election.
While George W. Bush and Laura Bush did not sit in the front row, the former president greeted all of the other former presidents and First Ladies when he arrived, and at one point passed candy to Michelle. (Per CNN reporter Brenna Williams, there was a similar "candy pass" during John McCain's funeral.)
With the exception of the above "candy pass," the most remarked-upon aspect of the ceremony — both from reporters present at the ceremony and people following along on Twitter — was the formidable awkwardness of the front row.
Curious to know about the energy in the back row as well!