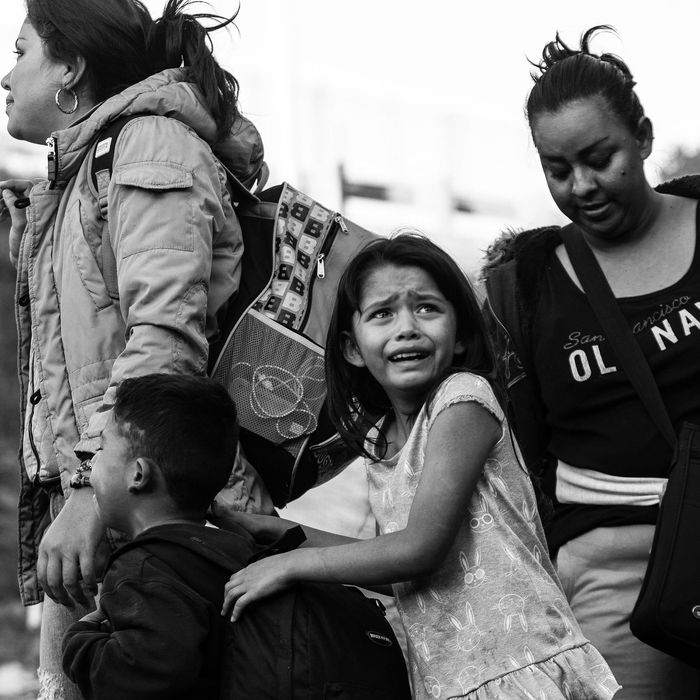 Migrant family at the border.
Photo: GUILLERMO ARIAS/AFP/Getty Images
Although President Trump signed an executive order ending his "zero-tolerance" policy of separating migrant families at the U.S.–Mexico border in June, his administration has ripped 81 children from their parents over the past six months.
According to government data obtained by the Associated Press, the administration has found a way to continue this cruel practice through a legal loophole: When a federal judge struck down the original policy, which had led to more than 2,400 children being torn from their asylum-seeking parents and detained in cages, he ruled that the Trump administration could still separate migrant families if the children seemed in danger, or if the parents have been accused of a serious crime.
Of the 76 adults separated from the 81 children between June 21 — the day after Trump signed the executive order — and this past Tuesday, 51 were criminally prosecuted: 31 for criminal histories and 20 for unspecified reasons. Per the AP's data, ten were affiliated with a gang, nine were hospitalized, four had extraditable warrants, and two had previously violated immigration law.
While Katie Waldman, a spokeswoman for the Department of Homeland Security, told AP that "separations are rare," immigrants-rights activists are concerned that border agents may be incorrectly labeling families as dangerous, given that it's up to the Trump administration to make that determination.
"The government shouldn't be separating families based on vague or unsubstantiated allegations of criminal history as a way around our court order," the American Civil Liberties Union tweeted in response to the AP report. "We're very concerned about these reports and may need to ask the court to order the government to alert us to any new separations."
Meanwhile, as of mid-October, 245 migrant children who were separated from their families under the "zero-tolerance policy" still had not been reunited with their parents.