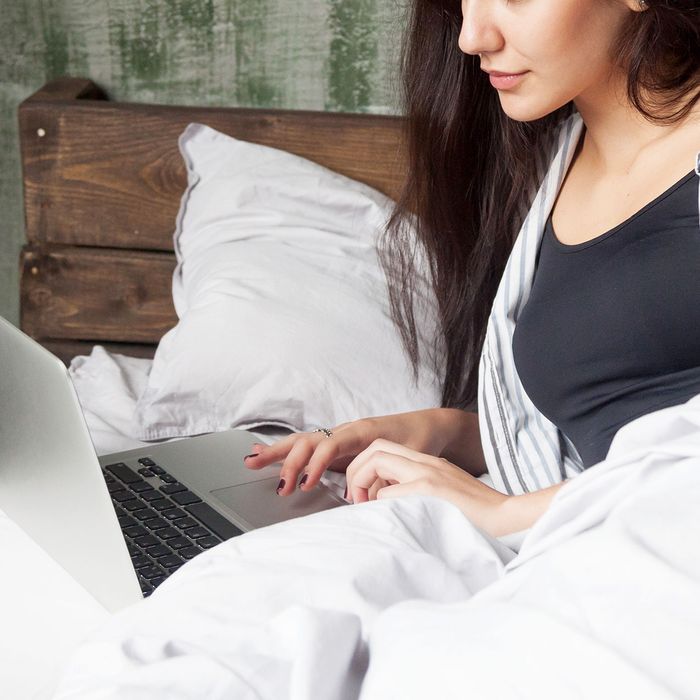 Photo: fizkes/Getty Images/iStockphoto
Looking at porn on Tumblr was basically a teen rite of passage for millennials and Gen Z — the latter of which will soon become the last generation to partake in such a beloved pastime. On Monday, in a post on its staff blog, the company announced that it would be banning all adult content on its platform — news that has shaken those who know porn is the "lifeblood" that keeps Tumblr running.
On the heels of a child porn controversy, the company announced that starting December 17, Tumblr will prohibit "photos, videos, or GIFs that show real-life human genitals or female-presenting nipples, and any content — including photos, videos, GIFs and illustrations — that depicts sex acts." Tumblr, however, insists that the site will remain "a safe place for creative expression, self-discovery, and a deep sense of community."
But people aren't convinced. For many, Tumblr was a place where it was possible to explore your sexuality, learn about kinks and fetishes, or simply just get horny from looking at a photo of an artistically lit butt — and most importantly, people felt safe, which is why the new ban has left many upset. (And this doesn't even touch on how this adult-content crackdown fits into the ongoing insidious war on sex workers.)
Below, four women reflect on their erotic experiences on Tumblr, and what the internet will miss once the ban takes effect.
"I used to use Tumblr as an emo teen; I actually feel like it helped me discover a lot about myself, which lead to me using it for adult content. It helped me and continues to help me explore my sexuality and acts as a safe space. I guess because all of the profiles on Tumblr use clandestine names so if one were to search my history they wouldn't right off the bat know I identified with a certain sexuality. [The porn ban] hurts! And I feel like it's taking away something so sacred from me." —Lisa, 27
Tumblr has always been the easiest way for me to find porn related to my interests. I feel that it's easier to navigate than going to most free sites that cater to heterosexual male interests, where I find my own preferences and fetishes buried or not at all. I also feel the communities available are valuable, though I haven't participated in them. Also, I think Tumblr is a good way to pay content creators directly. — Katie, 27
"Pornographic content was the lifeblood that kept Tumblr going. In fact, I'd argue that it was the reason for Tumblr becoming such a huge community in the first place. No matter the type of sexual content — be it art, photography, written, etc. — Tumblr and porn have been almost synonymous for the entirety of its existence.
With platforms like Tumblr and Patreon cracking down on adult content, it is inadvertently invalidating an entire industry and encouraging those that consume those types of content to discontinue their financial support of these creators.
Most, if not all, people who create adult content properly tag and lock their accounts on Tumblr so minors would not have access to it. These are the safety measures that Tumblr had put in place.
However, instead of finding better ways to control bot accounts who disobey rules and fix the issues that plagued their platform and structure, they've decided to remove all adult content as the 'final solution.'
Unfortunately, it isn't just adult content taking the hit. Tumblr's inability to properly flag posts has hit artists and creators who don't make any sort of 18+ content.
Once again, the problem is Tumblr as a platform and the inability to hold its structure together, and this 'fix' has cost a lot of creators their ability to properly make money at the most important time of the year." —Kdin Jenzen, 30
"As someone who grew up with Tumblr being a platform where people my age explored things related to sexuality without being labeled 'deviant' from people who didn't understand, it's really disheartening to see a ban on this kind of content. People have the right to explore their sexuality, and especially to be able to express it in a way that's organic and true to life. Art mirrors life, and if you censor art, you censor the important conversations that it generates. Art will always be controversial, and so will anything related to sexuality because as a society, we frequently perpetuate double standards about this, especially where sex work is concerned.
Also, regulating child porn or anything that is sexually exploitative and harmful is different from other kinds of "adult content," and it should be noted as such and dealt with accordingly when Tumblr is alerted of it. But conflating sexually exploitative content with sexuality itself, and banning everything because of it, isn't the answer." —Anna, 22