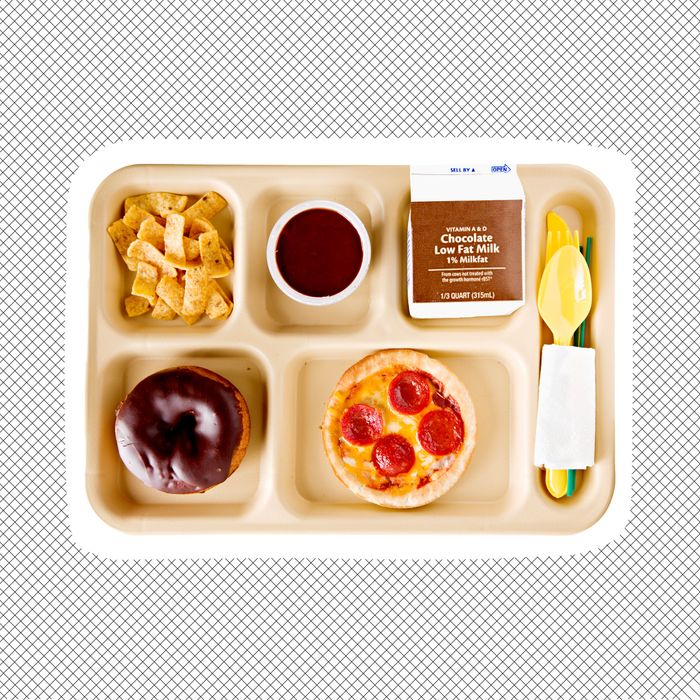 The USDA will make more room for fat, sugar, and salt on school menus.
Photo: DebbiSmirnoff/Getty Images
President D.J. Trump reportedly subsists on a diet almost exclusively composed of fat, salt, white bread, and sugar, and his administration seems to think you should, too. On Thursday, the U.S. Department of Agriculture unveiled new guidelines that will promote a wider range of presidentially approved options. White bread, chocolate milk, and sodium snacks for all.
The Obama-era Healthy Hunger-Free Kids Act previously mandated that public schools serve only whole grains, and permitted only fat-free flavored milks. The USDA now plans to loosen those restrictions: Going forward, half of those grains can be refined flour, and low-fat sugary milks will once again be welcome on cafeteria menus. Meanwhile, the agency is also pressing pause on the previous administration's push to lower sodium levels.
"If kids are not eating what is being served, they are not benefiting, and food is being wasted," Agriculture Secretary Sonny Perdue said, according to NPR. In a statement, he pledged that the USDA "will continue to listen to schools, and make common-sense changes as needed, to ensure they can meet the needs of their students based on their real-world experience in local communities."
While the changes may seem mild, nutrition experts still worry that, especially with regard to sodium, "school lunches will fail to be consistent with the Dietary Guidelines for Americans, as is required by law," as Margo Wootan of the Center for Science in the Public Interest put it to NPR. The American Heart Association echoed that sentiment because guzzling salt with abandon elevates the risk of cardiac disease.
Meanwhile, the National School Association is jazzed about this new direction, anticipating that wider latitude in menu options may encourage kids to eat their lunch. Which, yes: Most children probably would prefer Wonder Bread to whole wheat, Choco Milk to skim, and candy meals to pretty much anything else. That's one reason why babies — with the exception of the enormous infant parked in the Oval Office — aren't in charge.
Still, this move has been coming down the pike for quite some time: The Trump administration first set its sights on school nutrition in May 2017, with Perdue pledging to "Make School Meals Great Again." The final rule makes good on that promise, and will be published next week. Somewhere, our president is doubtless palming a celebratory McDonald's burger into his face, whole.