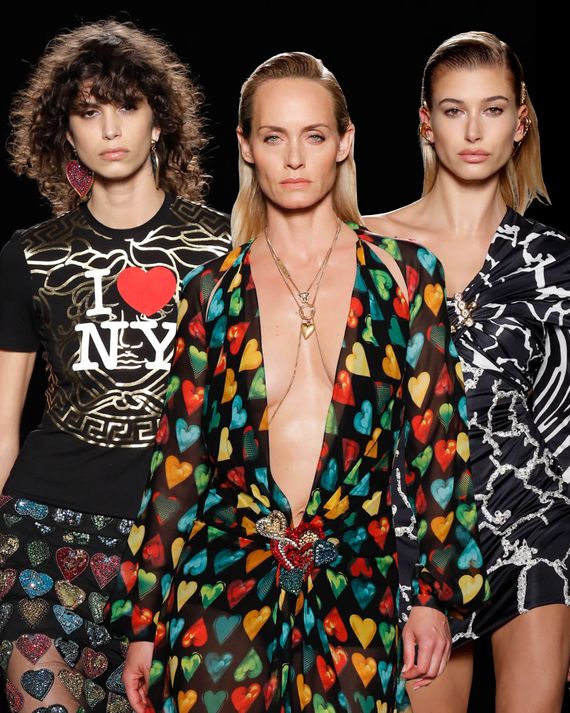 Photo: JP Yim/Getty Images
They say you have to spend money to make money. And since announcing its sale to Michael Kors for a cool $2.1 billion dollars, Versace is sparing no expense.
On Sunday night, the Italian brand hosted a massive runway show in downtown New York City — its first ever in America. The collection was "pre-fall," a season that normally goes unnoticed by the general public, but Versace went all-out for the occasion, presenting over 65 looks underneath a giant gilded torch à la Lady Liberty. It would have been Gianni Versace's 72nd birthday that day, and in his spirit, the show was a much-needed reminder that fashion can — and should! — be fun.
The front row itself had a combined net worth of at least $2.1 billion, with Kim and Kanye West making a public appearance together for the first time in months. They sat alongside musicians like 2 Chainz, Young Thug, Teyana Taylor, Mary J. Blige, and Ciara, as well as actors Tracee Ellis Ross, Uma Thurman, Diane Kruger, Norman Reedus, Lupita Nyong'o, Blake Lively, and Bradley Cooper, who just wanted to take another look at his wife, model Irina Shayk. (See what I did there?) Designer Alexander Wang, who hosted his own runway event in Brooklyn Saturday night, was also in attendance.
And that's not even the half of it. The show opened with Kaia Gerber and closed with Amber Valetta, who wore a 2018 remake of the iconic V-neck dress she modeled for Donatella Versace back in 2000 — the same dress that invented Google image search when Jennifer Lopez wore it to the Grammy Awards that year.
Hailey Baldwin — now Hailey Bieber — also walked in her first-ever Versace show. (Only a piece of gaudy Versace bling could downplay her massive ring.)
"I think it's a really smart idea," Bieber told the Cut of Versace's move to America. "They're huge here. Donatella knows what she'd doing! I'm obsessed with Versace and '90s culture and fashion, and I think Donatella paved the way."
Bieber herself (God, I'm still not used to it) was born in 1996, so she may not have been alive for many of the references made on Sunday night's runway — but that's precisely the point. If Versace is going to be a billion-dollar company, it not only has to remind customers of its greatest hits, but also introduce them to a younger, more global audience.
Versace's Tribute Collection last year was a huge success commercially and editorially, proving that the brand doesn't need to reinvent the wheel in order to succeed. Last season, Donatella tried to be someone she wasn't by giving in to trends, and the show felt confused and lower-volume by comparison. Now, she's got a new lease on life (the Michael Kors deal will be finalized next year), and it shows. Her pre-fall collection was a statement that the Versace we know and love is healthy and here to stay.
Gianni Versace always talked about expressing joy through his clothes, and I felt that in spades on Sunday night. Everything was loud, colorful, and high-gloss, expressing confident sex appeal and celebrating a life well-lived. Whether or not you're a fan of the brand's signatures — animal prints, safety pin dresses, slinky bodysuits — it's impossible not to have a good time at Versace.
But it might have been Emily Ratajkowski who had the most astute observation about the show. "I think that they just like, really love to do the most," she said. "And I love that."