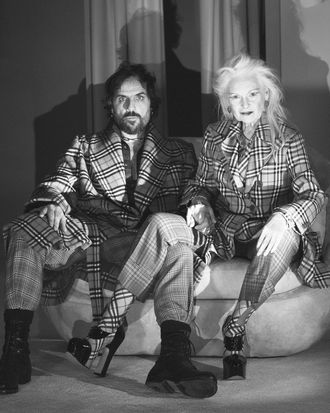 Vivienne Westwood.
Photo: David Sims/Courtesy of Burberry
How would Riccardo Tisci, Burberry's new designer, win over the U.K.? By bringing in the queen of punk, and arguably British fashion, Vivienne Westwood for help in making a limited-edition capsule. The brand announced the collab eons ago (in July). But it's here now! While it's no shirt adorned with chicken bones, it is an undeniably cool way to wear plaid. All the looks are constructed in the iconic Burberry plaid, but with some twists.
There are berets with pins in them, thigh-high socks, Clueless-esque miniskirts, and cropped jackets. All that sounds more girly than punk, but the collection is rounded out by wide-leg plaid pants, oversize ties that look straight out of All the President's Men, and a shirt scrawled with Cool Earth Has a Plan to Save the Rainforest (Westwood handwrote that message). Cool Earth is a charity that supports the rainforest, and proceeds from the tee will benefit it. Westwood, you may recall, is quite into the environment. The collection for Burberry starts at $70, and is available now online.