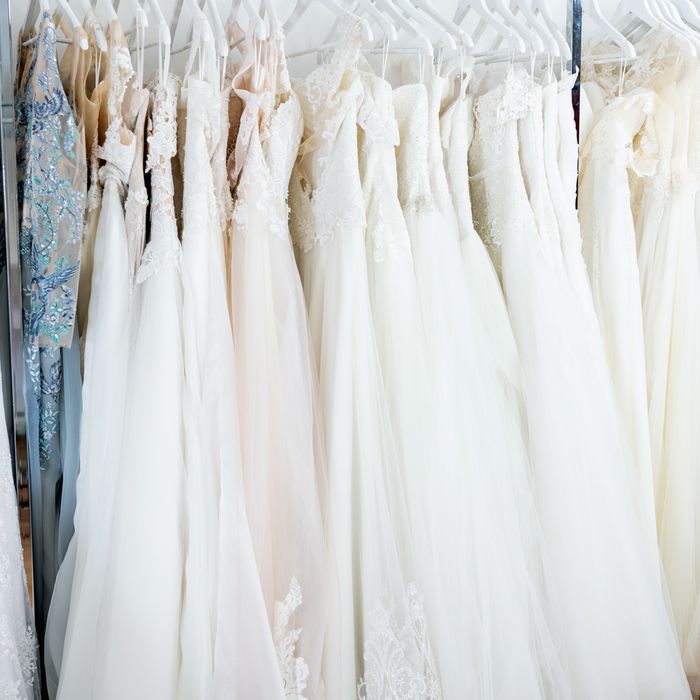 Photo: Getty Images / Yoh4nn
It might be presumptuous to assume any couple should follow a set of hard-and-fast rules when planning their wedding. That is, until 80 percent of your studio apartment is packed with gifts you never registered for. And you're on a 20-person group text with family members, fielding questions about hotels that are walking distance from your venue. At these points, some direction and structure doesn't seem like such a bad thing. Whether or not you're hiring professional help, navigating the wedding planning process is a little easier once you know which tasks to tackle and when.
Below, we've gathered organizational advice from Jennifer Spector, director of brand at Zola, the multi-service weddings site that offers a checklist feature to keep stressful, but ultimately exciting, tasks on track, as well as Angie Nevarez, owner and principal planner of Baton NYC. Brush up now before engagement season peaks.
One Year Out
For the sake of this article, we'll assume you're planning a wedding approximately a year in advance. The very first task to complete on your checklist, Spector says, is selecting the venue. Not much else can be confirmed until the date, location, and time are set. "Definitely enjoy being engaged and don't feel pressure to book right away, but also keep in mind that many vendors do book up about a year in advance for summer and fall," she says, also referring to florists, decorators, and caterers.
Another task that Nevarez, of Baton NYC, recommends completing as soon as possible: booking the band. "There are a ton of bands out there but only a few truly great ones," she advises.
Nine Months Out
Spector recommends that couples should typically set up a wedding website about eight to 12 months before the big day, so by nine months, ensure it's ready to be shared. Since Zola offers free wedding websites, you can simply get started by browsing the templates for one that speaks to you, then be sure to keep the site updated with need-to-know info (so no one will need to call or text for every question). "Your friends and family are going to find your wedding website when they need to look at your registry or figure out their travel plans," says Spector.
Now's also a good time to figure out a registry that works for you and your significant other, be it bath towels and silverware or gift cards you can use on your honeymoon. "You don't necessarily have to have your registry started when you start your wedding website, but it's never too early to start adding gifts," Spector says. A good rule of thumb she suggests is getting it set up before the first wedding event, such as an engagement party or a shower, so guests can refer to it.
Finally, if you're getting a wedding dress, "nine months prior is ideal," Nevarez adds. This allows for plenty of time to create a made-to-order design, ship long distance if necessary, and schedule one or multiple fittings leading up to the day-of. "Go with one or two trusted friends; don't bring an army of people," she also suggests. "The process can be overwhelming!"
Six Months Out
According to Spector, save-the-dates, which can be selected and ordered through Zola, should be sent around six to eight months before the big day. "It doesn't necessarily need to be a super-formal piece of mail if you don't want it to be," she says, "but you should give your guests as much notice as possible." Spector also adds that save-the-dates will ensure your guests are in town should your wedding fall on or close to a holiday.
Two Months Out
"It's customary to send invitations about eight weeks before your wedding," Spector recommends. Designing the invitations can take as little as an hour on the Zola site, but if you choose to browse the more than 150 options of paper invitations at your leisure and have them delivered to you (which takes about 5 to 10 business days), it's a good idea to get a head start. Thankfully, to help expedite the process, you can also send a link to your guests to input their contact information for the envelopes.
With invites out of the way, there's time to tackle a planning step that Nevarez says is too often left to the last minute: seating. "Couples often think they need all the RSVPs in before they can get started on this, but I advise my couples to start working on this as soon as the invitations have been mailed," she says.
One Month Out
As your wedding day draws closer, now's the time to zero in on all the specifics that matter to you. "The last month is when all of the special details get pulled together," says Nevarez. "This is when we have the final guest list and move forward with printing escort and place cards."
Additionally, now's when to finalize the menu with your caterers. "A final menu tasting should happen in the last four to six weeks before the wedding to ensure that you are tasting the produce that will be in season on the day of," Nevarez adds.
Two Weeks Out
Ideally your planning list should be almost entirely checked off, but Nevarez suggests one more item to give you total peace of mind going into your big day: "Communicate clearly with family and friends about where they should be and when during the days leading up to the wedding." You can utilize your wedding site for this or simply email a few key people to ensure all systems are go. Once that's set, throw your list out and enjoy the ride.
This is paid content produced for an advertiser by New York Stories. The editorial staff of The Cut did not play a role in its creation.