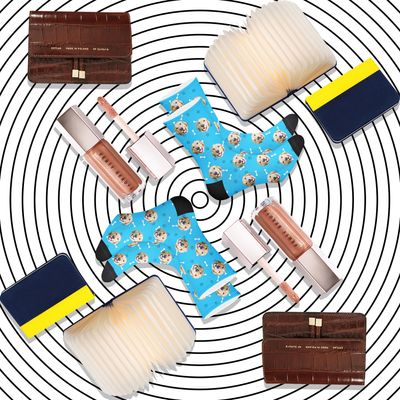 Photo: Courtesy of the Retailers
What our editors are giving (or hoping to get) this year, from cozy socks to personalized natal charts.
Diana Tsui, Market Editor
Years ago, my best friend brought back a treasure trove of tiny socks from her yearly trip to Korea to visit her family. They were extremely adorable, featuring the likes of Totoro and Sailor Moon. And cuteness aside, they were my absolute favorites because they hit just below the ankle, letting only a sliver of color peek out from sneakers — the optimal height for short legs. I spent years searching for them in the States to no avail until I came across these.
Catie L'Heureux, Managing Editor
The best gift I ever received is a book lamp from MoMA. I use it every night while reading in bed before I fall asleep. The light is bright enough that I'm not squinting to read, or feeling overstimulated like I would looking at my phone — but soft enough that the light is calming without making me feel too drowsy before I'm ready. I can unwind and stay awake long enough to finish an entire chapter. And it looks so cool in a dark room! The MoMA gift shop has a few different sizes of the book lamp on display, but the Mini is the only one that's truly right for a nightstand or packing in a suitcase: it's the size of a large wallet.
Dora Fung, Interim Fashion Director
I am a natural-born hoarder, so I need an everyday bag that will help me curb my habit of carrying more than I need. This mini belt bag from new designer Chylak, exclusively for Net-A-Porter, is the answer to my prayers. The strap can be turned into a cross-body shape, but both ways of wearing also allows me to be hands-free. At $270, I call this a win-win.
Show them you listened.
Gift an Audible membership!
Callie Beusman, News Editor
Photo: Science & Society Picture Librar/SSPL via Getty Images
Because self-knowledge is the best gift of all, I will be gifting a custom natal chart reading and consultation from a respected astrologer. In a reading, an astrologer looks at the position of planets and other celestial bodies in order to glean information about someone's character, relationships, and life's path. An hour-long session with Anne Ortelee is amazing — she's worked as an astrologer for several decades and has mentored several of my friends, but her sessions are pretty expensive. If you are looking for someone equally genius but not so pricey, I'd suggest Annabel Gat, Randon Rosenbohm, or Janelle Belgrave. (They all offer consultations over Skype, so you don't have to be based in their area.)
Kelly Conoboy, Writer-at-Large
This year, I bought several of my dog-loving friends a pair of PupSocks, which are socks decorated with the face of your friend's dog. How it works is: you submit an image of the dog and pick out the sock color. About two weeks later you receive your incredible gift, which is the dog's face all over a sock. Of course, I came across PupSocks in an Instagram advertisement. (My mom did, too. The day I received one of the pairs of PupSocks I'd ordered I got a text from her: "This company puts your dog on a sock!") The image of the dog comes out clear, and they look extremely funny and good. Everyone needs socks, so why not a sock with your dog's face on it?
Sarah Spellings, Fashion Writer
I'm both asking for and giving this mug as a gift this year. Why? Because it's perfect. It looks like something in a movie adaptation of a Dr. Suess book, which is my favorite kind of houseware. I firmly believe that adults are allowed to be whimsical, but only sparingly. A comically oversized handle on a mug is the perfect amount of whimsy. If all else fails, you can fill it with short flowers.
Hayley Schueneman, Beauty Writer
This lip gloss is Rihanna-approved, universally flattering, and less than $20. My roommate gave it to me for Christmas last year and I immediately felt very fancy and cool, which is the best post-gift feeling. It's available in three shades now, though I'll always be partial to the original nude rose Fenty Glow.
Erica Smith, Beauty Writer
I'm gifting Slip Sleep Masks to basically everyone I know this year (sorry for the spoiler if you know me and you're reading this). They're great for your face because they help you better absorb all those pricey nighttime beauty products, and they're great for your overall well-being because they encourage sleep. Most importantly, they make you feel fancy and they now come in every sign under the sun, so your present will feel personalized (even if you gift them to basically everyone you know. )
If you buy something through our links, New York may earn an affiliate commission.