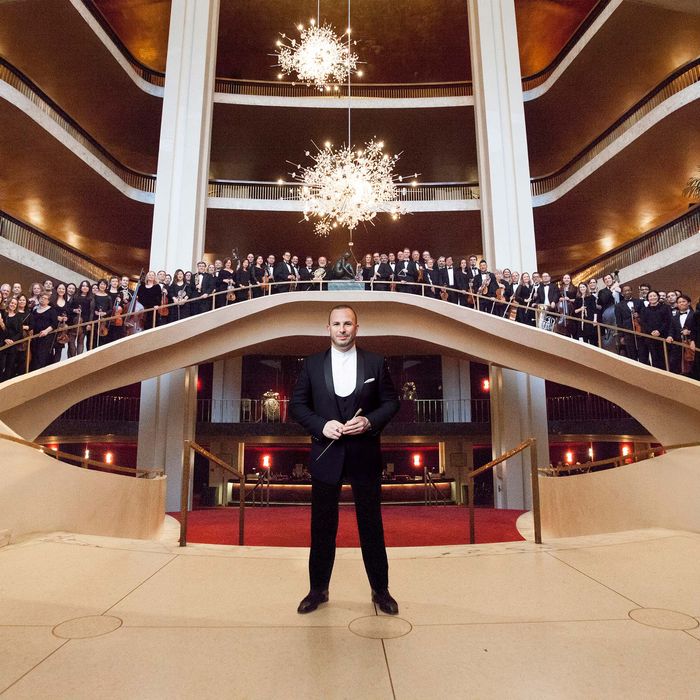 Photo: Rose Callahan / Met Opera
Few New York City landmarks are as dazzling, particularly at night, as the Metropolitan Opera, a cultural hub of unparalleled beauty and the best place to go for a fun, refined evening out. Walking across Lincoln Center Plaza and entering the beautiful lobby is an experience itself. A crystal chandelier hangs like an explosion of light under the domed gold-leaf ceiling. Guests drink champagne on the Grand Tier terrace upstairs under two breathtaking 30-foot murals painted in fiery reds and soft pastels, created especially for the opera house by the modernist artist Marc Chagall in the 1960s, while Lincoln Center's illuminated fountain bubbles in a flurry of white lights below. From the striking gowns and tuxedos to the celebrities who regularly attend, the scene is for anyone who loves high art at its best.
An evening at the Met is always awe-inspiring, but now is a special, even historic time to visit, beginning with the opening of La Traviata on December 4. It will be the first opera conducted by the brilliant young maestro Yannick Nézet-Séguin as the company's new music director, an appointment that has set the classical music world abuzz.
It's a seismic moment for the Metropolitan Opera: The 43-year-old is just the third person to hold the position in the house's storied 135-year history. Nézet-Séguin is already a hugely successful, beloved force in the industry, and his meteoric rise started at age 25, when he took over his native Montreal's Orchestre Métropolitain. Since then, Nézet-Séguin has performed with leading ensembles all over the world, received consistently rave reviews, and released numerous popular recordings. He's also music director of the Philadelphia Orchestra, meaning that his new post in New York makes him the musical leader of two of the most important musical organizations in the U.S.
Nézet-Séguin is known as a down-to-earth, charismatic leader and a dauntless conductor, committed to expanding the Met's repertoire by selecting wide-ranging styles of operas to perform. His passion and electric energy at the podium are his trademarks. "I feel I need to embody the music," he's said about his lively, expressive style.
For this important occasion, he'll conduct Verdi's La Traviata, one of the most frequently performed and beloved operas of all time. Set in 19th-century Paris and sung in Italian with subtitles, it tells the story of Violetta, a self-possessed heroine who falls madly in love in the last year of her life. Overflowing with tender beauty and crackling with dramatic tension, it's "a perfect opera," says Nézet-Séguin. "There is an incredible intimacy about it," he explains, "and yet a certain grandeur."
The Met's intricate, glamorous new production is directed by Tony Award-winning director Michael Mayer and stars soprano Diana Damrau as Violetta, the ill-fated courtesan, and tenor Juan Diego Flórez as her lover, Alfredo. "She knows she's going to die, and she's probably never experienced real love, and it hits her like lightning," says Damrau. "This last year of her life is filled with every emotion and feeling a human being can experience."
Book tickets here. La Traviata will run December 4 to April 27, 2019, at the Metropolitan Opera.
This is paid content produced for an advertiser by New York Brand Studio. The editorial staff of The Cut did not play a role in its creation.