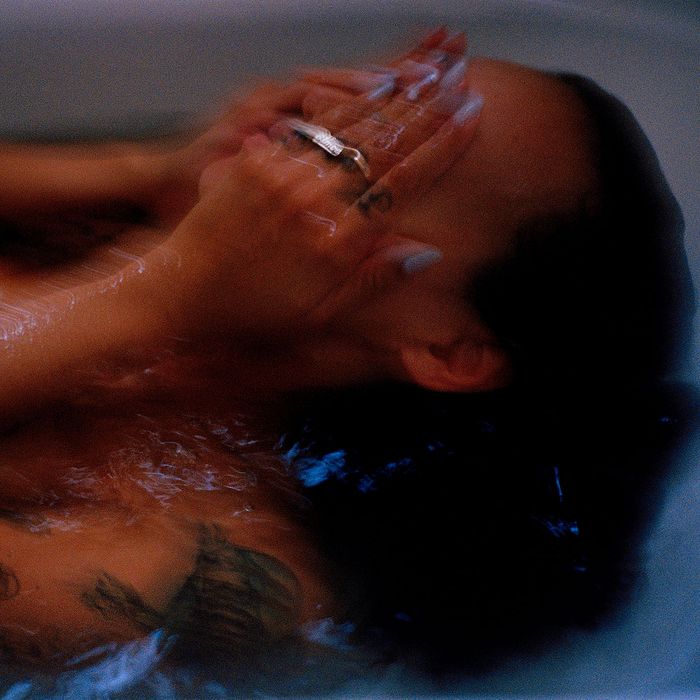 Last night on the Lower East Side, a group of people straddling the border between Gen Z and Millennials gathered in and out of a small gallery at 61 Hester street. At the center of the skateboarding, Juuling, and small-talking was Zora Sicher. Sicher is a 23-year-old artist who, last night, was celebrating the opening of her first solo exhibition and launch of her first photo book.
Dressed in vintage Jean Paul Gaultier, Sicher explained that her work focuses on the relationship between muses and artists, as well as the connotations of the word "hysteria." She's young, but Sicher has already had photos featured in Vogue, i-D, Dazed, and worked with Gucci and Chloé. The show, on display until next week, is titled "Hysteria," and the book is called Progreso 110. The show explores one particular muse, a woman named Samantha, while the book chronicles the life of four roommates living in Mexico City. They're muses as well as friends.
"I've taken a lot of photos of women, so the show has a lot to do with a strong female presence. The two explore the dialogue between the photographer and the subject and extending that further. I think it's relevant now because it's always been male photographers and female muse, and the muse is a body, and a projected subject, but the conversation just ends there. For me it's about having the muse transcend the space and not just be a photo, a face, or a body." She does that through focusing on "intimate spaces" of the female body.
See scenes from the book and show below.