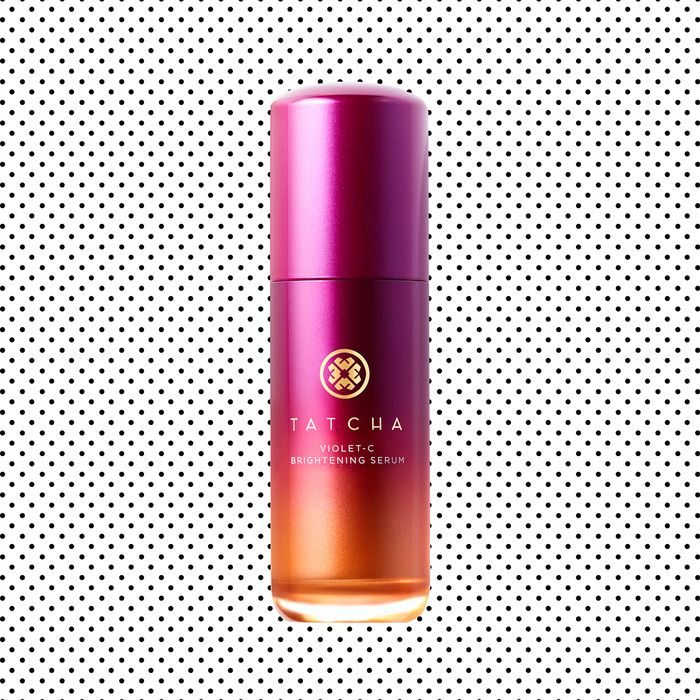 Photo: Courtesy of Tatcha
Tatcha is known for its premium skincare products — they're so good that even a certain princess uses them to get her signature glow. The newest addition to the Tatcha family, debuting January 3, is the Violet-C Brightening Serum: a natural product with 20 percent Vitamin C and 10 percent AHA designed to give you smooth, radiant, prince-catching skin. (On a less-royal but still critical note, Violet-C is free of parabens, sulfates, and other things that have no business on your skin, and instead features AHAs from seven gentle fruits.) We asked four skincare-obsessed Cut staffers to try Tatcha's new serum for seven days to see if the formula lived up to the hype. Here's what they had to say.
Emily Sorokes
Senior Integrated Marketing Manager
My skin is a bit confusing. It's definitely oily, with large pores, but I also get dry spots around my chin and jawline. It can also be super-sensitive and gets red and irritated often. I've been following a skincare routine since fifth grade because of this! In general, I try to keep oil, pores, and early signs of aging at bay while also maintaining moisture.
I liked how quickly the serum absorbed into my skin, since it made it easy to layer on moisturizers without having to wait forever for it to dry. It's fragrance-free, so there's no flowery smell; it does have a very slight clinical scent. The first morning after I used the Violet-C serum, my skin looked and felt really nice. I took a look at my pores, and they seemed tighter. I felt like my skin just looked calm and less irritated than usual. Overall, I found this serum to be powerful yet gentle, and it seems like a winner for lots of skin types.
Indya Brown
Fashion Partnerships Editor, the Cut
I have oily skin, and I usually incorporate a lot of acids and anti-acne products into my routine. My products are on the low-pH side, which is nicer for my complexion. At first sight, I thought the packaging of Violet-C looked sleek like all Tatcha products, like it's something you wouldn't mind having displayed in your medicine cabinet. The serum itself felt watery, and absorbed quickly without any filmy residue. After a week of consistent use I noticed that my face looked more radiant and "glowy." And it brightened my tone overall. I would definitely recommend this one.
Aydah Albaba
Director of Production, Branded Content
My face reacts quickly to products, which can be good or very, very bad. I have really sensitive skin and am on a mission to troubleshoot redness. I incorporated this serum into my nighttime routine, which already has several steps. I double-wash my face with a hydrating cleanser to make sure my face is bare after a day of makeup. I follow that up with a rosewater balancing mist to, well, balance my face. Then I added the Tatcha serum, and used the butterfly method to apply it (basically, you just apply the product in a butterfly-like shape on your face). I finished off with a thick night cream to lock in the moisture.
After a few days, I noticed my skin tone was more even, there was less redness, and my pores were tighter — all good things! I've even been using less concealer around my eyes and cheeks as a result. Plus, I judge a book by its cover, and there's something special about opening a luxury skincare product. I have an exposed vanity at home, and this one stands out for sure.
Katie O'Donnell
Branded Content Editor, New York Stories
I'm lucky that my skin is pretty clear, but it fluctuates overall with the seasons. Now that it's winter, it's noticeably drier and duller. My skincare routine is extremely low-key: I like to keep it as simple and efficient as possible, but I'm trying to incorporate a few more targeted, purposeful new products as I've finally been starting to give my skin more attention.
I'd recommend this serum to anyone looking to get the brightening effects of Vitamin C in a formula that's serious, but with less-intimidating ingredients than things like retinol. Since I'm so unfussy about skincare, I like products that feel clean and unobtrusive on my face — no artificial colors or overpowering scents. It also felt so gentle that I wasn't worried about breaking out or irritation, yet the formula seemed to work surprisingly quickly. While I don't know if any of my dark spots lightened in such a short time, my face had a boost to it that, to me, felt like a week well spent.
This is paid content produced for an advertiser by New York Stories. The editorial staff of The Cut did not play a role in its creation.