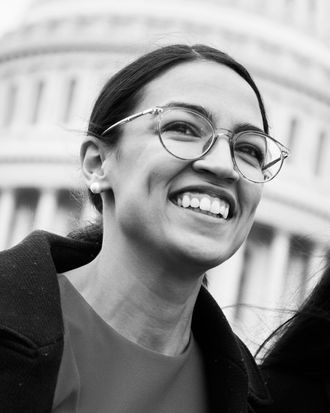 Alexandria Ocasio-Cortez.
Photo: Tom Williams/CQ-Roll Call,Inc.
New York congresswoman Alexandria Ocasio-Cortez has amassed a devoted following of people inspired by her unapologetically progressive platform, her desire to shake up the increasingly moth-eaten Democratic party, and also her dance moves. And according to Politico, some of her fellow Democrats would like her tone all of that down, thank you.
In a new report, lawmakers and aides shared their apprehensions about Ocasio-Cortez's outspokenness, and the huge influence she wields on social media. Some are reportedly "hoping to coax her into using her star power to unite Democrats and turn her fire on Republicans," while others warn that her criticisms of her own party will lead to a "lonely, ineffectual career in Congress." In other words: If it's broke, don't fix it, and don't acknowledge that it's broke!
"She needs to decide: Does she want to be an effective legislator or just continue being a Twitter star?" one Democratic representative told Politico — ignoring, it seems, that in her eight days as a congresswoman, Ocasio-Cortez has already begun moving forward on concrete policy initiative, like pushing for Democratic leaders to embrace the Green New Deal, and recommending that the U.S. consider taxing incomes above $10 million at a 70 percent rate (a policy, Intelligencer's Eric Levitz points out, that's actually moderate).
"There are a lot of folks that I think want to brand me as a flamethrower," she told Anderson Cooper on 60 Minutes. "But I think the truth of what I am is a consensus-builder."
Some of Ocasio-Cortez's colleagues — adults — chose to voice their concerns to Politico because they were worried that if they raised them with the congresswoman herself, she would "mean-tweet" at them, per a follow-up tweet from one of the report's authors, Rachel Bade:
Soon after the report was published, Ocasio-Cortez tweeted the following.