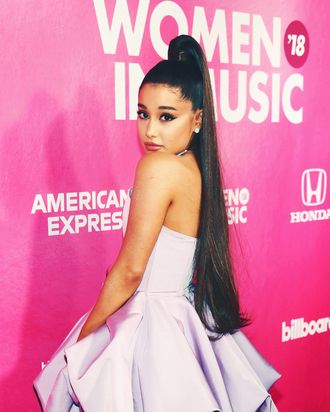 Photo: Mike Coppola/Getty Images for Billboard
In her grand tradition of getting new ink to mark major life events, Ariana Grande got a new hand tattoo written in Japanese kanji characters to celebrate her new single, "7 Rings."
But getting a tattoo in a different language — and sometimes even in your own language — can be tricky, which is how she ended up with a tat that read "small barbecue grill" instead of "7 rings."
In a photo posted to her Japanese Twitter account on Tuesday (and which has since been deleted from her Instagram), you can see her palm tattoo, which Kotaku has pointed out actually read "shichirin," or "small charcoal grill."
According to Kotaku, the tattoo symbols technically mean "seven" and "ring," but when you add those characters together, they take on a whole different meaning: "七輪 (shichirin) is a 'small charcoal grill' and not 'seven rings,' which is written differently in Japanese," the outlet explains. (The correct way of writing "seven rings" — 七つの指輪, or nanatsu no yubiwa — does appear in the music video for the song.)
Ariana, for her part, initially seemed cool with her accidental misspelled tattoo. In a now-deleted tweet, she wrote that she "left out 'つの指' which should have gone in between" the symbols, but "it hurt like fuck" and she "wouldn't have lasted another symbol lmao."
By Wednesday night, though, Ari had a new and slightly improved version on her hand, having texted her tutor for guidance. She documented the saga on her Instagram stories, writing that she had to get a lidocaine shot from her doctor to get through the pain.
Still, as BuzzFeed notes, it doesn't read exactly right: Her tutor said that her original tattoo, 七輪, reads "seven circles" — or, as we have heard, "Japanese barbecue grill" — and suggested Grande add 指— the kanji for "finger" — between and above the characters, so it would read as 七指輪, or seven rings. But it seems there wasn't room for that, so Grande had it added below. And since Japanese is mostly read from left to right, her solution means that the new one roughly translates to … "Japanese barbecue finger."
RIP small barbecue grill, long live Ariana's willingness to try her best.
This post has been updated.