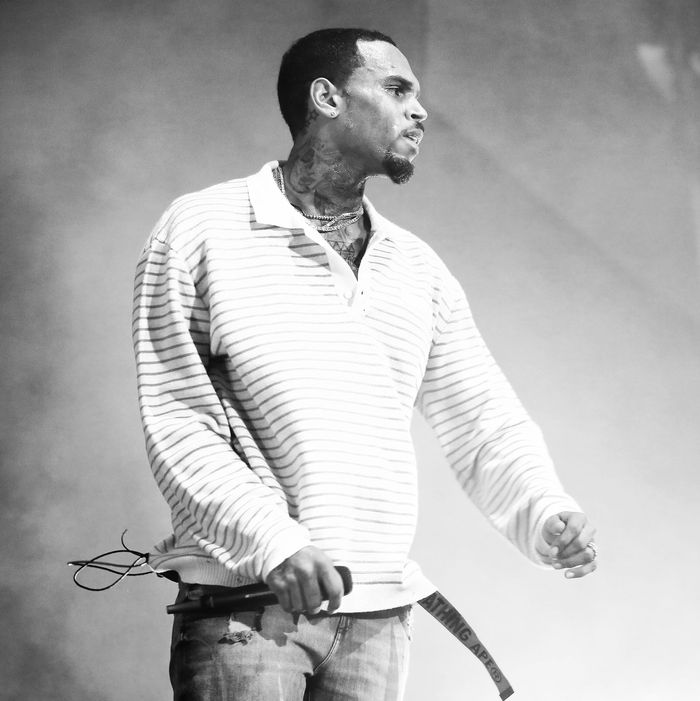 Brown.
Photo: Ser Baffo/Getty Images
Chris Brown was reportedly detained in Paris after a woman filed a rape complaint with French police, according to the Associated Press.
Brown was detained by police on Monday along with two other people on potential charges of aggravated rape and drug infractions. He remained in custody until Tuesday, though investigators could have held him for two more days.
The 24-year-old woman who filed the complaint told police that she met Brown and his two friends on the night of January 15 at a nightclub in central Paris, BBC reports. She said that afterward, they went to the Mandarin Oriental Hotel nearby, where she said Brown assaulted her.
The other two men who were arrested have been identified as Brown's bodyguard and his friend.
In an interview with French magazine Closer, the woman, identified only as Karima, said that Brown dragged her into a hotel closet and launched a "brutal and violent" attack on her for a half-hour.
She said that she had been in his hotel suite with Brown, his friends, and about 15 other women, when he grabbed her right arm and pulled her into a closet as she was making her way to a bathroom.
"It's still too difficult for me to explain in detail what he did to me," she said. "But it was brutal and violent. He was menacing and aggressive. I was very afraid."
Karima said that after Brown's attack, one of his friends showed up, and she thought he would take her home, but he took her to a room, locked the door, and abused her, as did Brown's bodyguard.
"The only wish I had was to go home," she said. "I was too scared. It was three muscular men, aggressive and menacing. I could not do anything."
She said that she managed to leave when she told Brown that she had classes the next day and began to cry. He gave her back her cell phone, and she left, eventually going to police two days later.
On Instagram, Brown denied the charges writing: "I WANNA MAKE IT PERFECTLY CLEAR …… THIS IS FALSE AND A WHOLE LOT OF CAP! NNNNNNNNEEEEEEEEEEVVVVVVVVVVEEEEEERRRRRR!!!!!! FOR MY DAUGHTER AND MY FAMILY THIS IS SO DISPRESPECTFUL AND IS AGAINST MY CHARACTER AND MORALS!!!!!"
On Tuesday night, Variety reported that Brown and the two other men he was arrested with were released from police custody, without any charges filed against them. However, the Paris prosecutor's office has not closed the case and said the investigation is still ongoing.
According to TMZ, Brown plans to sue the woman for defamation. His Parisian attorney, Raphael Chiche, tweeted on Tuesday, "Chris Brown is free. No lawsuits were filed against him. He vigorously challenges the charges against him. A complaint for slanderous denunciation will be filed tomorrow with the public prosecutor of Paris."
In addition to receiving five years' probation and a community-service order for assaulting his ex-girlfriend Rihanna in 2009, Brown was arrested in 2016 for allegedly assaulting a woman with a deadly weapon; last year he was arrested on felony battery charges.
He was also sued by a woman who alleges that she was raped while at his house in 2017; the same year, he was ordered to stay away from his ex Karrueche Tran after she got a restraining order, alleging domestic violence.
The Cut has reached out to Brown's representatives for comment, and will update this article if we hear back.
This post has been updated throughout.