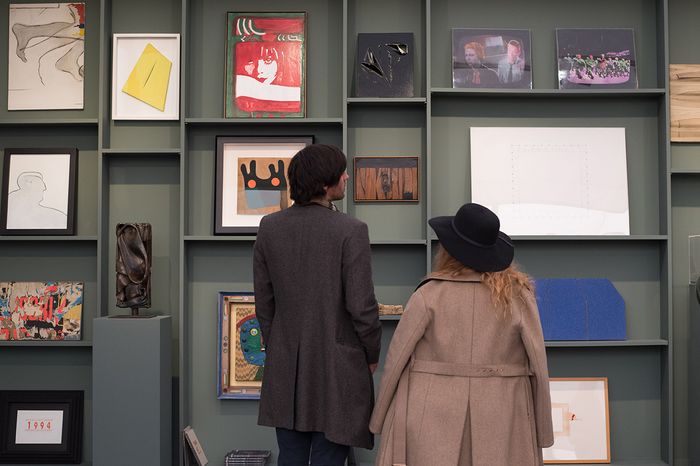 Photo: Jenn Tuan/Sotheby's Institute of Art
It's cold. It's gray. And it doesn't matter that the days are getting longer, because you'd rather be home hiding under the covers. But there's only so much blahness a creative being can take before feeling completely drained. If that's where you're at, it's time to look up, look around, and see the world a little differently. This could be as simple as giving your apartment a quick visual update, as uncomfortable as trying meditation, or as eye-opening as taking a class at Sotheby's Institute of Art. However you reignite your creativity, you'll be that much more buoyed through the rest of winter.
Meditate
Meditation can unleash the dreamer in you — a bit ironic when you consider wandering minds are enemy No. 1 of this peace-promoting activity. As an act of mindfulness, it can improve your attention span, help you ideate, and boost resiliency in the face of skepticism and setbacks — all very useful in creative pursuits. Although 10 minutes is the sweet spot for results, any meditation is better than no meditation. Start at three or five minutes, and work your way up.
Take a Class That Inspires You
Need a dose of structure to help harness your creativity? Committing to an arts education class is a great way to explore something new, gain professional development, or turn an interest into a full-on art career. Sotheby's Institute of Art — which is celebrating its 50th anniversary in 2019 and, yes, was originally founded by the famed auction house — features six- and eight-week online courses. The offerings include options like The Gallery Business, Art as an Alternative Investment, and Writing for the Art World, which are led by a faculty of world-class scholars, critics, and artists.
If you prefer a shorter, IRL class, hold out for Sotheby's summer courses, with classes like How the Art World Works; Secrets of the Auction World; and Art World Marketing, PR, and Communication. Each is a mix of lectures and visits to museums, galleries, artist studios, and special exhibitions. For something very substantial, consider one of Sotheby's master's programs, such as the brand-new weekend and evenings art business degree or the standard art business program — ideal for anyone looking to enter the business of international art — or a program in contemporary art or fine and decorative art design.
And if you have an art-loving teen, you can get them involved, too, with Sotheby's summer pre-college program. It's a two-week course where high-schoolers can submerge themselves in the New York art world, learning not only about fashion, architecture, and art history but also the business of art and how art can be used as a tool for activism.
Create a Vision Board
You don't need to believe visualization can manifest destiny to benefit from a vision board. Think of it more as an exercise in creativity: one of those seemingly indulgent activities that splits the difference between work and play. You could do this online by curating images or go tactile with posterboard and a pile of magazines.
Either way, it's good to have a vision — you might say — for your board before beginning. Will it be about work? Food? Fitness? Home? Travel? Everything? It can be whatever you want, really, but it helps to set some kind of intention from the get-go.
Go to an Art Exhibit
Whatever kind of creative you are, you're bound to be rejuvenated by a day of art. Even if you've hit every New York museum, there are always new exhibits — like this much-hyped one starring the king of pop art — ready to pique your creativity. Another option is an auction preview at Sotheby's, which, beginning January 30, will hold its first auction dedicated to female artists from the 16th to 19th centuries. And for the latest recommendations from discerning experts, follow Sotheby's Institute of Art on social media, where its faculty recommends exhibits in New York, L.A., and London every Friday.
Redecorate — or Just Rearrange — Your Apartment
Cleaning might be for spring, but winter's all about nesting, making it the perfect time to refresh your space. That could mean painting it (blue promotes creativity), buying a few new pieces, or the no-cost option of rearranging it. Besides compelling you to see your space differently, it will allow you to experiment with color, form, and function. And when you're done, you'll likely find your home a lot more inspiring.
Take a Trip
Just like rearranging your apartment can force your mind to see things differently, traveling can do the same in a more dramatic way. Traveling abroad — or even traveling within the country and engaging with different cultures — can improve cognitive flexibility, which is your ability to jump from idea to idea and is essential to creativity. Just the exposure to different sights, sounds, and tastes can spark your creativity and inspire your own art, even if the trip is as simple as trading the cold gray of New York for the warm sun of California.
If you do make it to L.A. this winter, consider these standout art events: Frieze LA will host a new contemporary art fair in February, bringing about 70 galleries to one space, Paramount Studios; Felix LA, which coincides with Frieze LA, will bring together 38 exhibitors from around the world at the Hollywood Roosevelt Hotel; and on February 11, Sotheby's Art Institute will host Artists, Activism, Agency, an evening with Pussy Riot founder Nadya Tolokonnikova plus artists Tavares Strachan and Shepard Fairey. The night will culminate with a performance by Pussy Riot.
All images courtesy of Sotheby's Institute of Art.
This is paid content produced for an advertiser by New York Stories. The editorial staff of The Cut did not play a role in its creation.