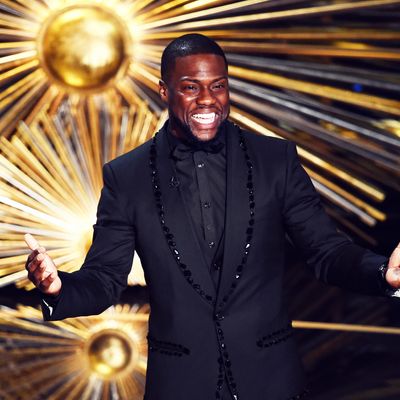 Photo: Kevin Winter/Getty Images
Last month, Kevin Hart signed on to host the 2019 Oscars, only to step down within a matter of days following backlash over old tweets and press statements in which he made homophobic remarks.
Since then, there have been rumors that the Academy may not even hire a new host in the wake of the controversy, and with less than two months left before the ceremony, there's still no word on a replacement.
But now Ellen DeGeneres has stepped in: In a clip from Friday's episode of The Ellen DeGeneres Show, on which Hart is the guest, she says she personally called the Academy and asked for him to be given back his role; Hart goes on to tell her that he's "evaluating" taking on the gig again.
"I called them, I said, 'Kevin's on, I have no idea if he wants to come back and host, but what are your thoughts?'" DeGeneres said. "And they were like, 'Oh my God, we want him to host! We feel like that maybe he misunderstood or it was handled wrong. Maybe we said the wrong thing but we want him to host. Whatever we can do, we would be thrilled. And he should host the Oscars.'"
Hart, meanwhile, reiterated that he had already apologized for his homophobic comments — including jokes about "fearing" that his son would grow up to be gay — and therefore didn't feel the need to address them again when the backlash started. (It's unclear what apology he's referring to, here — in 2015, he addressed the comments in an interview with Rolling Stone, saying, "I wouldn't tell that joke today, because when I said it, the times weren't as sensitive as they are now.")
"As a gay person, I am sensitive to all of that," DeGeneres said. "You've already expressed that it's not being educated on the subject, not realizing how dangerous those words are, not realizing how many kids are killed for being gay or beaten up every day."
On Twitter, she continued to defend Hart, writing, "In this conversation, @KevinHart4real was authentic and real, and I'm in his corner. #OscarsNeedHart."
Hart's appearance on the show brought even more backlash, as did DeGeneres's comments dismissing criticisms against him as noise from "haters."
There's been no official word yet on whether or not the Academy has reoffered the hosting gig to Hart, though he said he's rethinking whether or not he'd accept it, because DeGeneres had "put a lot of things on my mind."
Should the Academy decide to go with literally any other host, however, they've got plenty of options.